Argan Oil-Mediated Attenuation of Organelle Dysfunction, Oxidative Stress and Cell Death Induced by 7-Ketocholesterol in Murine Oligodendrocytes 158N
1
Team Bio-PeroxIL, 'Biochemistry of the Peroxisome, Inflammation and Lipid Metabolism' (EA7270)/University Bourgogne Franche-Comté/Inserm, 21000 Dijon, France
2
Laboratory of Neuroscience and Biochemistry, Faculty of Science and Technology, University Hassan 1er, 26000 Settat, Morocco
3
Lab. NAFS, 'Nutrition—Functional Food & Vascular Diseases' LR12-ES-05, University of Monastir, 5000 Monastir, Tunisia
4
Faculty of Medicine of Sousse, 4002 Sousse, Tunisia
5
'Institut Préparatoire aux Etudes Scientifiques et Techniques' (IPEST), Laboratory 'Matériaux, Molécules et Applications' (LMMA), University of Carthage, La Marsa, 2078 Tunis, Tunisia
6
Pasteur Institut, Lab. 'Venoms & Therapeutic Biomolecules', University Tunis El Manar, 1068 Tunis, Tunisia
7
Eye & Nutrition Research Group, CSGA, UMR 1324 INRA, 6265 CNRS, University Bourgogne Franche-Comté, 21000 Dijon, France
8
Laboratoires Spiral, 21560 Couternon, France
9
Department of Neurology, University Hospital/University Bourgogne Franche-Comté, 21000 Dijon, France
*
Author to whom correspondence should be addressed.
Received: 12 September 2017 / Revised: 18 October 2017 / Accepted: 20 October 2017 / Published: 23 October 2017
Abstract
Argan oil is widely used in Morocco in traditional medicine. Its ability to treat cardiovascular diseases is well-established. However, nothing is known about its effects on neurodegenerative diseases, which are often associated with increased oxidative stress leading to lipid peroxidation and the formation of 7-ketocholesterol (7KC) resulting from cholesterol auto-oxidation. As 7KC induces oxidative stress, inflammation and cell death, it is important to identify compounds able to impair its harmful effects. These compounds may be either natural or synthetic molecules or mixtures of molecules such as oils. In this context: (i) the lipid profiles of dietary argan oils from Berkane and Agadir (Morocco) in fatty acids, phytosterols, tocopherols and polyphenols were determined by different chromatographic techniques; and (ii) their anti-oxidant and cytoprotective effects in 158N murine oligodendrocytes cultured with 7KC (25–50 µM; 24 h) without and with argan oil (0.1%
v
/
v
) or α-tocopherol (400 µM, positive control) were evaluated with complementary techniques of cellular and molecular biology. Among the unsaturated fatty acids present in argan oils, oleate (C18:1 n-9) and linoleate (C18:1 n-6) were the most abundant; the highest quantities of saturated fatty acids were palmitate (C16:0) and stearate (C18:0). Several phytosterols were found, mainly schottenol and spinasterol (specific to argan oil), cycloartenol, β-amyrin and citrostadienol. α- and γ-tocopherols were also present. Tyrosol and protocatechic acid were the only polyphenols detected. Argan and extra virgin olive oils have many compounds in common, principally oleate and linoleate, and tocopherols. Kit Radicaux Libres (KRL) and ferric reducing antioxidant power (FRAP) tests showed that argan and extra virgin olive oils have anti-oxidant properties. Argan oils were able to attenuate the cytotoxic effects of 7KC on 158N cells: loss of cell adhesion, cell growth inhibition, increased plasma membrane permeability, mitochondrial, peroxisomal and lysosomal dysfunction, and the induction of oxiapoptophagy (OXIdation + APOPTOsis + autoPHAGY). Altogether, our data obtained in 158N oligodendrocytes provide evidence that argan oil is able to counteract the toxic effects of 7KC on nerve cells, thus suggesting that some of its compounds could prevent or mitigate neurodegenerative diseases to the extent that they are able to cross the blood‐brain barrier.
View Full-Text
►

▼

Figures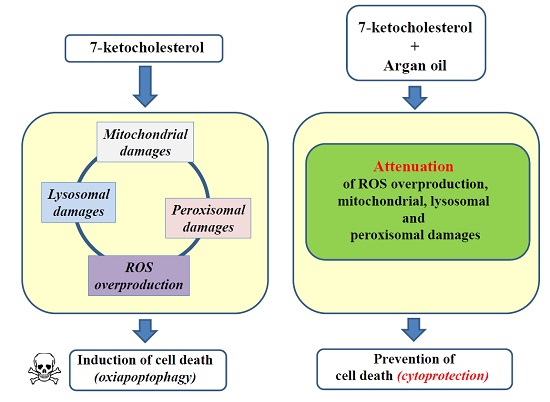 Graphical abstract
This is an open access article distributed under the
Creative Commons Attribution License
which permits unrestricted use, distribution, and reproduction in any medium, provided the original work is properly cited (CC BY 4.0).

Share & Cite This Article
MDPI and ACS Style
Badreddine, A.; Zarrouk, A.; Karym, E.M.; Debbabi, M.; Nury, T.; Meddeb, W.; Sghaier, R.; Bezine, M.; Vejux, A.; Martine, L.; Grégoire, S.; Bretillon, L.; Prost-Camus, E.; Durand, P.; Prost, M.; Moreau, T.; Cherkaoui-Malki, M.; Nasser, B.; Lizard, G. Argan Oil-Mediated Attenuation of Organelle Dysfunction, Oxidative Stress and Cell Death Induced by 7-Ketocholesterol in Murine Oligodendrocytes 158N. Int. J. Mol. Sci. 2017, 18, 2220.
Note that from the first issue of 2016, MDPI journals use article numbers instead of page numbers. See further details here.
Related Articles
Comments
[Return to top]