Orofacial Manifestations and Temporomandibular Disorders of Systemic Scleroderma: An Observational Study
1
Complex Operating Unit of Odontostomatology, Interdisciplinary Department of Medicine, "Aldo Moro" University of Bari., Piazza Giulio Cesare 11, 70124 Bari, Italy
2
Complex Operating Unit of Nuclear Medicine—Medical Statistics, Interdisciplinary Department of Medicine, "Aldo Moro" University of Bari., Piazza Giulio Cesare 11, 70124 Bari, Italy
3
Complex Operating Unit of Rheumatology, Interdisciplinary Department of Medicine, "Aldo Moro" University of Bari., Piazza Giulio Cesare 11, 70124 Bari, Italy
*
Author to whom correspondence should be addressed.
Academic Editor: Chris Jackson
Received: 31 May 2016 / Revised: 8 July 2016 / Accepted: 19 July 2016 / Published: 22 July 2016
Abstract
Scleroderma is a disorder involving oral and facial tissues, with skin hardening, thin lips, deep wrinkles, xerostomia, tongue rigidity, and microstomia. The aim of this study was to investigate the prevalence of oral manifestations and temporomandibular disorders (TMD) in Systemic Sclerosis (SSc) patients compared with healthy people. Eighty patients (6 men, 74 women) fulfilling ACR/EULAR SSc Criteria were enrolled. A randomly selected group of 80 patients, matched by sex and age served as control group. The examination for TMD signs and symptoms was based on the standardized Research Diagnostic Criteria for Temporomandibular Disorders (RDC/TMD) through a questionnaire and clinical examination. SSc patients complained more frequently (78.8%) of oral symptoms (Xerostomia, dysgeusia, dysphagia and stomatodynia) than controls (28.7%) (χ
2
= 40.23
p
= 0.001). TMD symptoms (muscle pain on chewing, difficulty in mouth opening, headaches) were complained by 92.5% of SSc patients and by 76.2% of controls (χ
2
= 8.012
p
= 0.005). At the clinical examination, 85% of SSc patients showed restricted opening versus 20.0% of controls (χ
2
= 67.77
p
= 0.001), 81.2% of SSc showed reduced right lateral excursion versus 50% of controls (χ
2
= 17.316
p
= 0.001); 73.8% of SSc showed limited left lateral excursion versus 53.8% of controls (χ
2
= 6.924
p
= 0.009); and 73.8% of SSc had narrow protrusion versus 56.2% of controls (χ
2
= 5.385
p
= 0.02).
View Full-Text
►

▼

Figures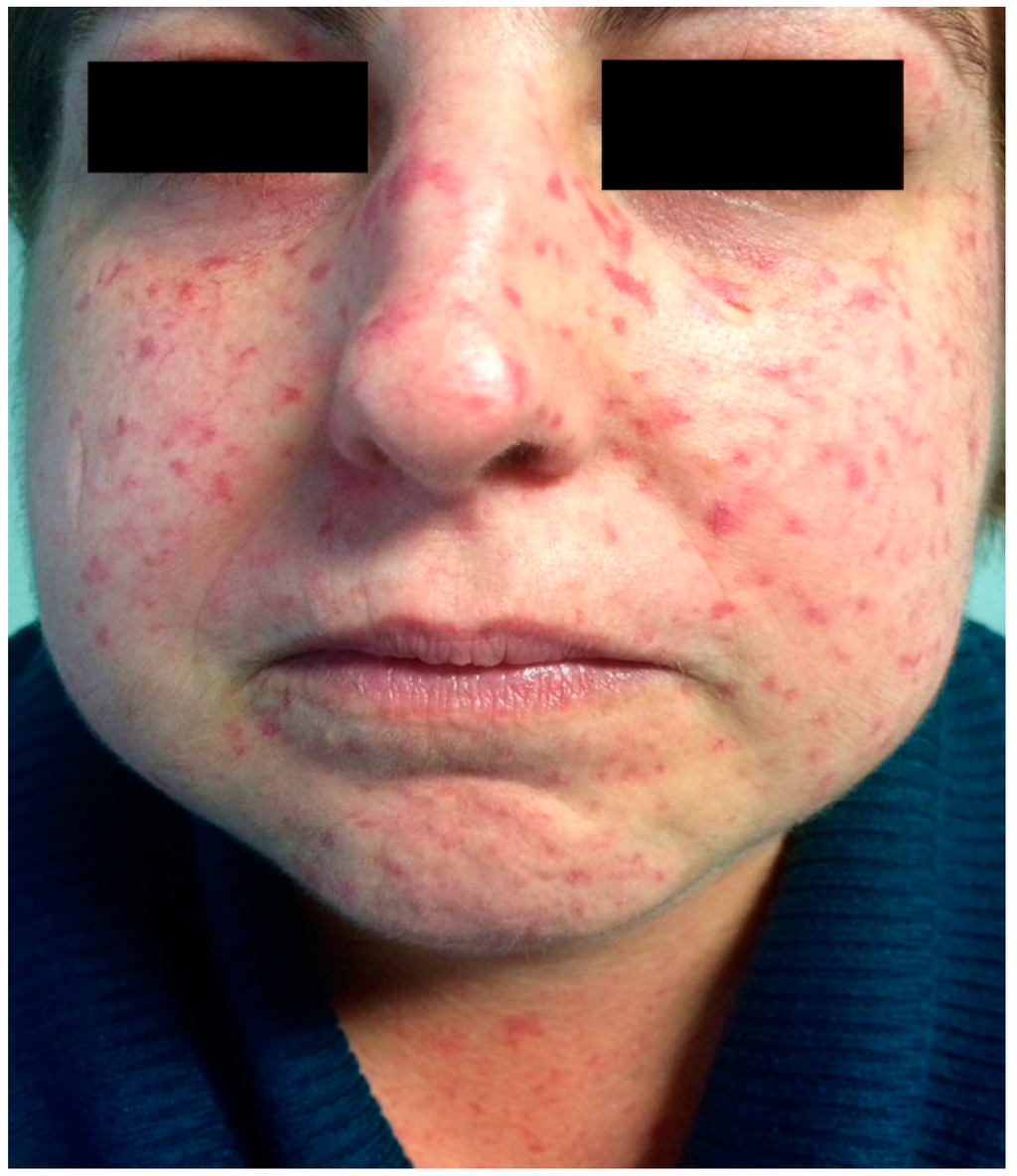 Figure 1
This is an open access article distributed under the
Creative Commons Attribution License
which permits unrestricted use, distribution, and reproduction in any medium, provided the original work is properly cited (CC BY 4.0).

Share & Cite This Article
MDPI and ACS Style
Crincoli, V.; Fatone, L.; Fanelli, M.; Rotolo, R.P.; Chialà, A.; Favia, G.; Lapadula, G. Orofacial Manifestations and Temporomandibular Disorders of Systemic Scleroderma: An Observational Study. Int. J. Mol. Sci. 2016, 17, 1189.
Note that from the first issue of 2016, MDPI journals use article numbers instead of page numbers. See further details here.
Related Articles
Comments
[Return to top]