Direct Injection of CRISPR/Cas9-Related mRNA into Cytoplasm of Parthenogenetically Activated Porcine Oocytes Causes Frequent Mosaicism for Indel Mutations
1
Section of Gene Expression Regulation, Frontier Science Research Center, Kagoshima University, Kagoshima 890-8544, Japan
2
Laboratory of Animal Reproduction, Faculty of Agriculture, Kagoshima University, Kagoshima 890-0065, Japan
3
Animal Genome Research Unit, Division of Animal Science, National Institute of Agrobiological Sciences, Ibaraki 305-8602, Japan
4
Division of Basic Molecular Science and Molecular Medicine, School of Medicine, Tokai University, Kanagawa 259-1193, Japan
5
Department of Cardiovascular Research, Graduate school of Medicine, Shinshu University, Nagano 390-8621, Japan
6
Department of Pediatric Dentistry, Graduate School of Medical and Dental Sciences, Kagoshima University, Kagoshima 890-8544, Japan
7
Division of Pediatric Dentistry, Department of Oral Health Sciences, Course for Oral Life Science, Graduate School of Medical and Dental Sciences, Niigata University, Niigata 951-8514, Japan
8
Division of Biomedical Engineering, National Defense Medical College Research Institute, Saitama 359-8513, Japan
*
Author to whom correspondence should be addressed.
†
These authors contributed equally to this work.
Academic Editor: Izuho Hatada
Received: 9 June 2015 / Revised: 9 June 2015 / Accepted: 24 July 2015 / Published: 3 August 2015
Abstract
Some reports demonstrated successful genome editing in pigs by one-step zygote microinjection of mRNA of CRISPR/Cas9-related components. Given the relatively long gestation periods and the high cost of housing, the establishment of a single blastocyst-based assay for rapid optimization of the above system is required. As a proof-of-concept, we attempted to disrupt a gene (
GGTA1
) encoding the α-1,3-galactosyltransferase that synthesizes the α-Gal epitope using parthenogenetically activated porcine oocytes. The lack of α-Gal epitope expression can be monitored by staining with fluorescently labeled isolectin BS-I-B
4
(IB4), which binds specifically to the α-Gal epitope. When oocytes were injected with guide RNA specific to
GGTA1
together with enhanced green fluorescent protein (
EGFP
) and human
Cas9
mRNAs, 65% (24/37) of the developing blastocysts exhibited green fluorescence, although almost all (96%, 23/24) showed a mosaic fluorescent pattern. Staining with IB4 revealed that the green fluorescent area often had a reduced binding activity to IB4. Of the 16 samples tested, six (five fluorescent and one non-fluorescent blastocysts) had indel mutations, suggesting a correlation between EGFP expression and mutation induction. Furthermore, it is suggested that zygote microinjection of mRNAs might lead to the production of piglets with cells harboring various mutation types.
View Full-Text
►

▼

Figures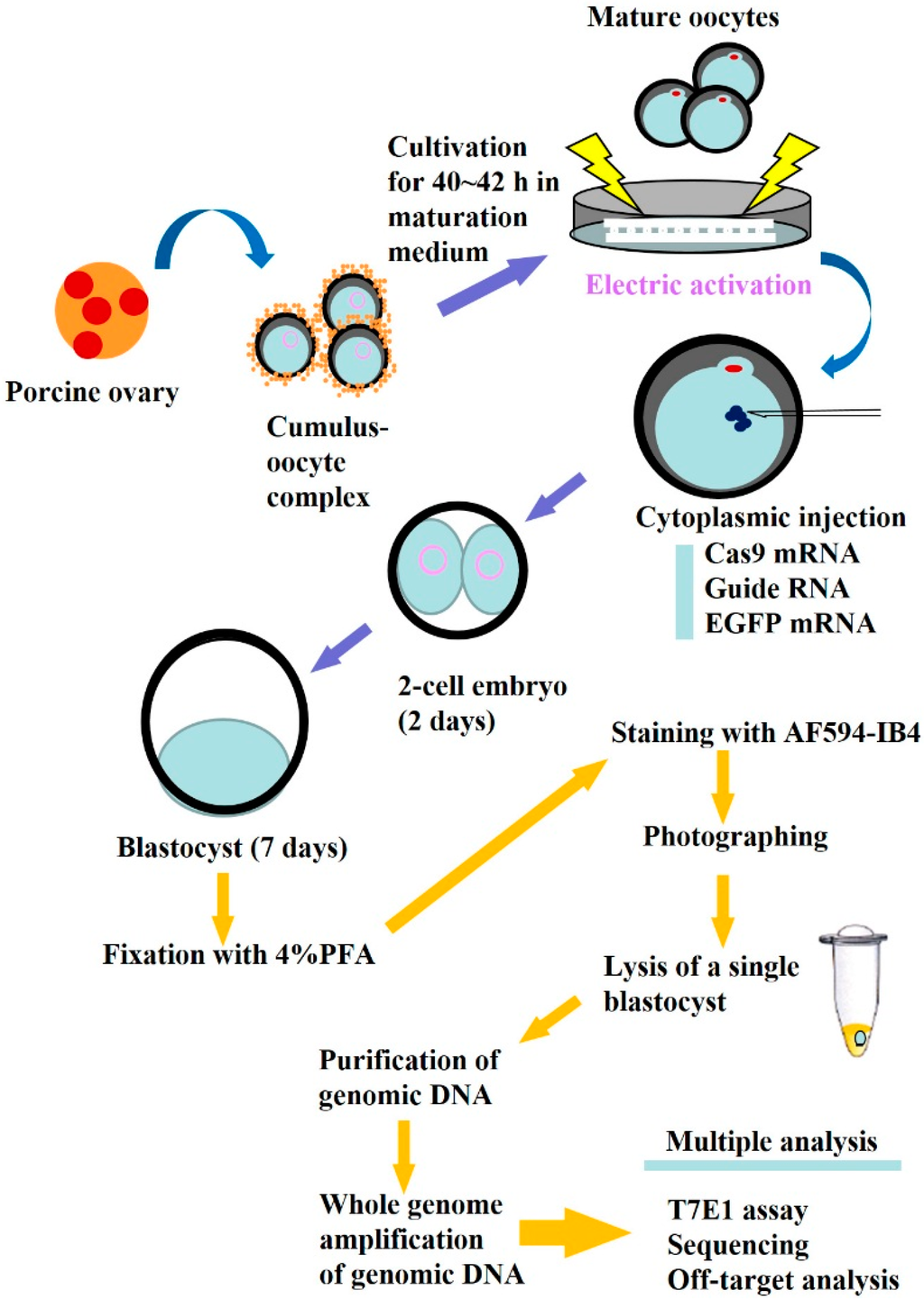 Figure 1
This is an open access article distributed under the
Creative Commons Attribution License
which permits unrestricted use, distribution, and reproduction in any medium, provided the original work is properly cited (CC BY 4.0).

Share & Cite This Article
MDPI and ACS Style
Sato, M.; Koriyama, M.; Watanabe, S.; Ohtsuka, M.; Sakurai, T.; Inada, E.; Saitoh, I.; Nakamura, S.; Miyoshi, K. Direct Injection of CRISPR/Cas9-Related mRNA into Cytoplasm of Parthenogenetically Activated Porcine Oocytes Causes Frequent Mosaicism for Indel Mutations. Int. J. Mol. Sci. 2015, 16, 17838-17856.
Related Articles
Comments
[Return to top]