Sll0528, a Site-2-Protease, Is Critically Involved in Cold, Salt and Hyperosmotic Stress Acclimation of Cyanobacterium
Synechocystis

sp. PCC 6803

College of Light Industry and Food Sciences, South China University of Technology, 381 Wushan Road, Guangzhou 510641, China

*

Author to whom correspondence should be addressed.

Received: 30 September 2014 / Revised: 21 November 2014 / Accepted: 25 November 2014 / Published: 8 December 2014
Abstract
Site-2-proteases (S2Ps) mediated proteolysis of transmembrane transcriptional regulators is a conserved mechanism to regulate transmembrane signaling. The universal presence of S2P homologs in different cyanobacterial genomes suggest conserved and fundamental functions, though limited data has been available. Here we provide the first evidence that Sll0528, a site-2-protease in
Synechocystis
sp. PCC 6803 is crucial for salt, cold and hyperosmotic stress acclimation. Remarkable induction of
sll0528
gene expression was observed under salt, cold and hyperosmotic stress, much higher than induction of the other three S2Ps. Knock-out of
sll0528
gene in wild type
Synechocystis
sp. PCC 6803 increased their sensitivity to salt, cold and hyperosmotic stress, as revealed by retarded growth, reduced pigments and disrupted photosystems. The
sll0528
gene was induced to a much smaller extent by high light and mixotrophic growth with glucose. Similar growth responses of the
sll0528
knockout mutant and wild type under high light and mixotrophic growth indicated that
sll0528
was dispensable for these conditions. Recombinant Sll0528 protein could cleave beta-casein into smaller fragments. These results together suggest that the Sll0528 metalloprotease plays a role in the stress response and lays the foundation for further investigation of its mechanism, as well as providing hints for the functional analysis of other S2Ps in cyanobacteria.
View Full-Text
►

▼

Figures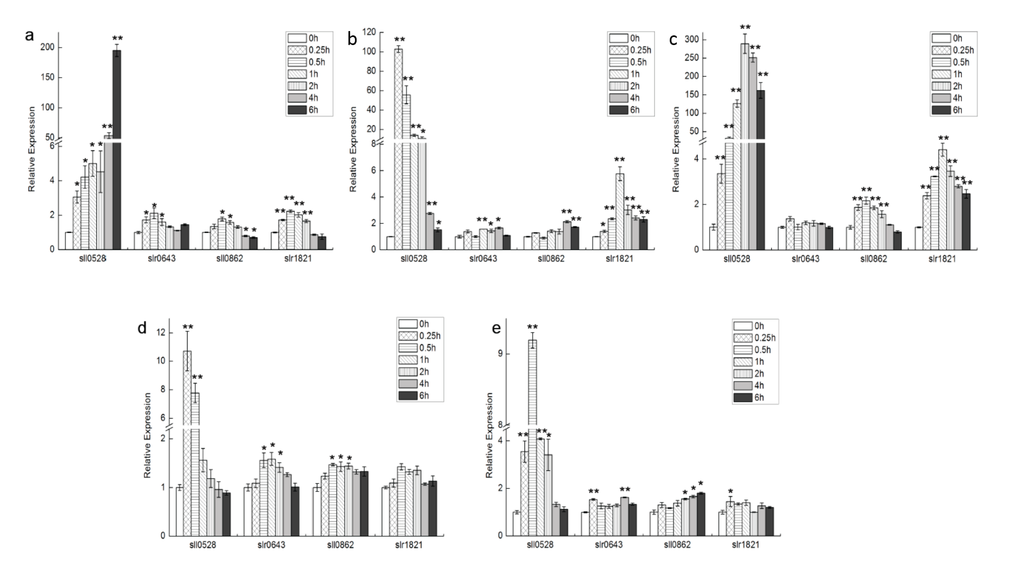 Figure 1
This is an open access article distributed under the
Creative Commons Attribution License
which permits unrestricted use, distribution, and reproduction in any medium, provided the original work is properly cited (CC BY 4.0).

Share & Cite This Article
MDPI and ACS Style
Lei, H.; Chen, G.; Wang, Y.; Ding, Q.; Wei, D. Sll0528, a Site-2-Protease, Is Critically Involved in Cold, Salt and Hyperosmotic Stress Acclimation of Cyanobacterium Synechocystis sp. PCC 6803. Int. J. Mol. Sci. 2014, 15, 22678-22693.
Related Articles
Comments
[Return to top]