Mutagenicity of New Lead Compounds to Treat Sickle Cell Disease Symptoms in a
Salmonella

/Microsome Assay

1

Lapdesf–Laboratório de Pesquisa e Desenvolvimento de Fármacos, Departamento de Fármacos e Medicamentos, Faculdade de Ciências Farmacêuticas, Univ Estadual Paulista–UNESP, Rodovia Araraquara Jaú Km. 01, 14801-902, Araraquara, SP, Brazil

2

Departamento de Ciências Biológicas, Faculdade de Ciências Farmacêuticas, Univ Estadual Paulista–UNESP, Rodovia Araraquara Jaú Km. 01, 14801-902, Araraquara, SP, Brazil

3

LASSBio–Laboratório de Avaliação e Síntese de Substâncias Bioativas, Faculdade de Farmácia, Univ Federal do Rio de Janeiro–UFRJ, Centro de Ciências da Saúde, Cidade Universitária, Ilha do Fundão, 21.944-190–Rio de Janeiro, RJ, Brazil

*

Author to whom correspondence should be addressed.

Received: 15 January 2010 / Accepted: 10 February 2010 / Published: 25 February 2010
Abstract
A series of phthalimide derivatives planned as drugs candidates to treat the symptoms of sickle cell anemia were evaluated in a mutagenicity test using strains of
Salmonella typhimurium
TA100 and TA102, without and with addition of S9 mixture, with the aim to identify the best structural requirements for a drug candidate without genotoxic activity. The compounds (1,3-dioxo-1,3-dihydro-2
H
-isoindol-2-yl)methyl nitrate (
1
); (1,3-dioxo-1,3-dihydro-2
H
-isoindol-2-yl)ethyl nitrate (
2
); 3-(1,3-dioxo-1,3-dihydro-2
H
-iso-indol-2-yl)benzyl nitrate (
3
); 4-(1,3-dioxo-1,3-dihydro-2
H
-isoindol-2-yl)-
N
-hydroxy-benzenesulfonamide (
4
); 4-(1,3-dioxo-1,3-dihydro-2
H
-isoindol-2-yl)benzyl nitrate (
5
) and 2-[4-(1,3-dioxo-1,3-dihydro-2
H
-isoindol-2-yl)phenyl]ethyl nitrate (
6
) presented mutagenic potency ranging between 0-4,803 revertants/μmol. These results allowed us to propose that a methyl spacer linked to a nitrate ester subunit associated to
meta
aromatic substitution decreases mutagenicity.
View Full-Text
►

▼

Figures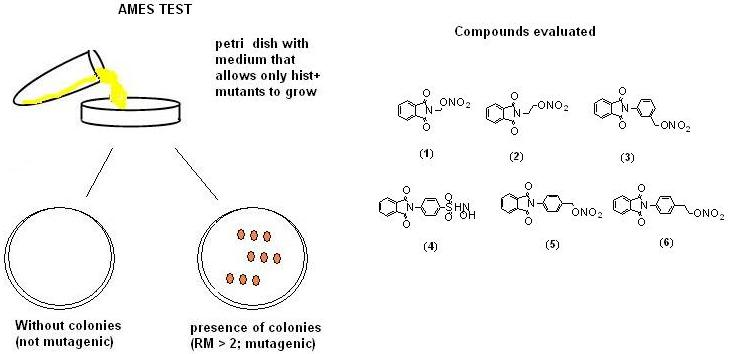 Graphical abstract

Share & Cite This Article
MDPI and ACS Style
Dos Santos, J.L.; Varanda, E.A.; Lima, L.M.; Chin, C.M. Mutagenicity of New Lead Compounds to Treat Sickle Cell Disease Symptoms in a Salmonella/Microsome Assay. Int. J. Mol. Sci. 2010, 11, 779-788.
Related Articles
Comments
[Return to top]