Covalent Anchoring of Chloroperoxidase and Glucose Oxidase on the Mesoporous Molecular Sieve SBA-15
Erlangen Catalysis Resource Center, Universität Erlangen Nürnberg, Egerlandstr. 3, 91058 Erlangen, Germany
*
Author to whom correspondence should be addressed.
Received: 4 January 2010 / Revised: 9 February 2010 / Accepted: 9 February 2010 / Published: 24 February 2010
Abstract
Functionalization of porous solids plays an important role in many areas, including heterogeneous catalysis and enzyme immobilization. In this study, large-pore ordered mesoporous SBA-15 molecular sieves were synthesized with tetraethyl orthosilicate (TEOS) in the presence of the non-ionic triblock co-polymer Pluronic P123 under acidic conditions. These materials were grafted with 3 aminopropyltrimethoxysilane (ATS), 3-glycidoxypropyltrimethoxysilane (GTS) and with 3 aminopropyltrimethoxysilane and glutaraldehyde (GA-ATS) in order to provide covalent anchoring points for enzymes. The samples were characterized by nitrogen adsorption, powder X-ray diffraction, solid-state NMR spectroscopy, elemental analysis, diffuse reflectance fourier transform infrared spectroscopy and diffuse reflectance UV/Vis spectroscopy. The obtained grafted materials were then used for the immobilization of chloroperoxidase (CPO) and glucose oxidase (GOx) and the resulting biocatalysts were tested in the oxidation of indole. It is found that enzymes anchored to the mesoporous host by the organic moieties can be stored for weeks without losing their activity. Furthermore, the covalently linked enzymes are shown to be less prone to leaching than the physically adsorbed enzymes, as tested in a fixed-bed reactor under continuous operation conditions.
View Full-Text
►

▼

Figures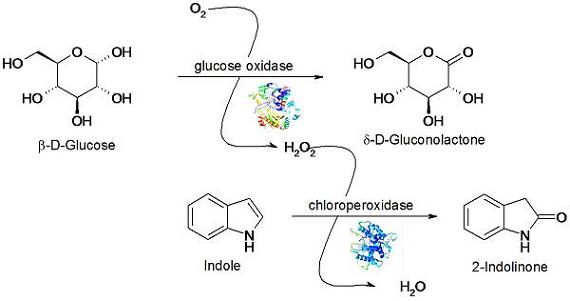 Graphical abstract

Share & Cite This Article
MDPI and ACS Style
Jung, D.; Streb, C.; Hartmann, M. Covalent Anchoring of Chloroperoxidase and Glucose Oxidase on the Mesoporous Molecular Sieve SBA-15. Int. J. Mol. Sci. 2010, 11, 762-778.
Related Articles
Comments
[Return to top]