Thermal Decomposition Kinetics and Mechanism of In-Situ Prepared Bio-Based Poly(propylene 2,5-furan dicarboxylate)/Graphene Nanocomposites
1
Laboratory of Polymer Chemistry and Technology, Department of Chemistry, Aristotle University of Thessaloniki, GR54124 Thessaloniki, Greece
2
Solid State Physics Department, School of Physics, Aristotle University of Thessaloniki, GR54124 Thessaloniki, Greece
3
School of Materials and National Graphene Institute, University of Manchester, Oxford Road, Manchester M13 9PL, UK
4
Chemistry Department, University of Ioannina, P.O. Box 1186, 45110 Ioannina, Greece
*
Authors to whom correspondence should be addressed.
Received: 4 April 2019 / Revised: 27 April 2019 / Accepted: 1 May 2019 / Published: 2 May 2019
Abstract
Bio-based polyesters are a new class of materials that are expected to replace their fossil-based homologues in the near future. In this work, poly(propylene 2,5-furandicarboxylate) (PPF) nanocomposites with graphene nanoplatelets were prepared via the in-situ melt polycondensation method. The chemical structure of the resulting polymers was confirmed by
1
H-NMR spectroscopy. Thermal stability, decomposition kinetics and the decomposition mechanism of the PPF nanocomposites were studied in detail. According to thermogravimetric analysis results, graphene nanoplatelets did nοt affect the thermal stability of PPF at levels of 0.5, 1.0 and 2.5 wt.%, but caused a slight increase in the activation energy values. Pyrolysis combined with gas chromatography and mass spectroscopy revealed that the decomposition mechanism of the polymer was not altered by the presence of graphene nanoplatelets but the extent of secondary homolytic degradation reactions was increased.
View Full-Text
►

▼

Figures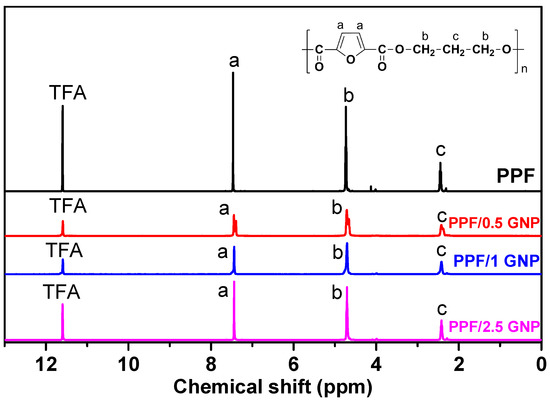 Figure 1
This is an open access article distributed under the
Creative Commons Attribution License
which permits unrestricted use, distribution, and reproduction in any medium, provided the original work is properly cited (CC BY 4.0).

Share & Cite This Article
MDPI and ACS Style
Terzopoulou, Z.; Tarani, E.; Kasmi, N.; Papadopoulos, L.; Chrissafis, K.; Papageorgiou, D.G.; Papageorgiou, G.Z.; Bikiaris, D.N. Thermal Decomposition Kinetics and Mechanism of In-Situ Prepared Bio-Based Poly(propylene 2,5-furan dicarboxylate)/Graphene Nanocomposites. Molecules 2019, 24, 1717.
Note that from the first issue of 2016, MDPI journals use article numbers instead of page numbers. See further details here.
Related Articles
Comments
[Return to top]