Comparison of Volatile Oil between the Fruits of
Amomum villosum

Lour. and

Amomum villosum

Lour. var.

xanthioides

T. L. Wu et Senjen Based on GC-MS and Chemometric Techniques

1

College of Pharmacy, Chengdu University of Traditional Chinese Medicine, Chengdu 611137, China

2

Innovative Institute of Chinese Medicine and Pharmacy, Chengdu University of Traditional Chinese Medicine, Chengdu 611137, China

3

School of Pharmacy, North Sichuan Medical College, Nanchong 637007, China

4

College of Basic medicine, Jinzhou Medical University, Jinzhou 121000, China

*

Authors to whom correspondence should be addressed.

Academic Editor: Henryk H. Jeleń

Received: 25 March 2019 / Revised: 18 April 2019 / Accepted: 24 April 2019 / Published: 28 April 2019
Abstract
Fructus Amomi (FA) is usually regarded as the dried ripe fruit of
Amomum villosum
Lour. (FAL) or
Amomum villosum
Lour. var.
xanthioides
T. L. Wu et Senjen (FALX.). However, FAL, which always has a much higher price because of its better quality, is often confused with FALX. in the market. As volatile oil is the main constituent of FA, a strategy combining gas chromatography–mass spectrometry (GC-MS) and chemometric approaches was applied to compare the chemical composition of FAL and FALX. The results showed that the oil yield of FAL was significantly higher than that of FALX. Total ion chromatography (TIC) showed that cis-nerolidol existed only in FALX. Bornyl acetate and camphor can be considered the most important volatile components in FAL and FALX., respectively. Moreover, hierarchical cluster analysis (HCA) and principal component analysis (PCA) successfully distinguished the chemical constituents of the volatile oils in FAL and FALX. Additionally, bornyl acetate, α-cadinol, linalool, β-myrcene, camphor,
d
-limonene, terpinolene and borneol were selected as the potential markers for discriminating FAL and FALX. by partial least squares discrimination analysis (PLS-DA). In conclusion, this present study has developed a scientific approach to separate FAL and FALX. based on volatile oils, by GC-MS combined with chemometric techniques.
View Full-Text
►

▼

Figures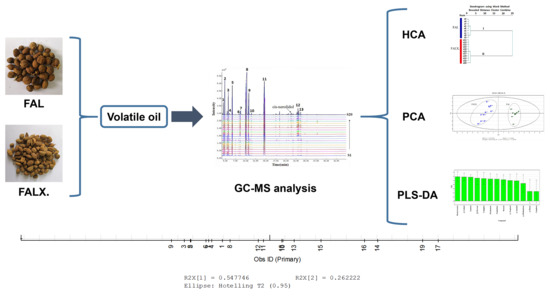 Graphical abstract
This is an open access article distributed under the
Creative Commons Attribution License
which permits unrestricted use, distribution, and reproduction in any medium, provided the original work is properly cited (CC BY 4.0).

Share & Cite This Article
MDPI and ACS Style
Ao, H.; Wang, J.; Chen, L.; Li, S.; Dai, C. Comparison of Volatile Oil between the Fruits of Amomum villosum Lour. and Amomum villosum Lour. var. xanthioides T. L. Wu et Senjen Based on GC-MS and Chemometric Techniques. Molecules 2019, 24, 1663.
Note that from the first issue of 2016, MDPI journals use article numbers instead of page numbers. See further details here.
Related Articles
Comments
[Return to top]