Sonochemically-Promoted Preparation of Silica-Anchored Cyclodextrin Derivatives for Efficient Copper Catalysis
1
Dipartimento di Scienza e Tecnologia del Farmaco, Università di Torino, Via Pietro Giuria 9, 10125 Turin, Italy
2
Departamento de Quimica Organica, Universidad de Cordoba, Edificio Marie-Curie (C-3), Ctra Nnal IV-A, Km 396 Cordoba, Spain
3
Dipartimento di Chimica, Università di Torino, Via Pietro Giuria 7, 10125 Turin, Italy
4
Instituto Politécnico Nacional, ESFM, Departamento de Física, UPALM, Zacatenco, Ciudad de México 07738, Mexico
5
Peoples Friendship University of Russia (RUDN University), 6 Miklukho-Maklaya str., 117198 Moscow, Russia
*
Author to whom correspondence should be addressed.
Academic Editor: Gregory Chatel
Received: 8 June 2019 / Revised: 1 July 2019 / Accepted: 2 July 2019 / Published: 7 July 2019
Abstract
Silica-supported metallic species have emerged as valuable green-chemistry catalysts because their high efficiency enables a wide range of applications, even at industrial scales. As a consequence, the preparation of these systems needs to be finely controlled in order to achieve the desired activity. The present work presents a detailed investigation of an ultrasound-promoted synthetic protocol for the grafting of β-cyclodextrin (β-CD) onto silica. Truly, ultrasound irradiation has emerged as a fast technique for promoting efficient derivatization of a silica surface with organic moieties at low temperature. Three different β-CD silica-grafted derivatives have been obtained, and the ability of β-CD to direct and bind Cu when CD is bonded to silica has been studied. A detailed characterization has been performed using TGA, phenolphthalein titration, FT-IR, diffuse reflectance (DR), DR UV-Vis, as well as the inductively-coupled plasma (ICP) of the β-CD silica-grafted systems and the relative Cu-supported catalysts. Spectroscopic characterization monitored the different steps of the reaction, highlighting qualitative differences in the properties of amino-derivatized precursors and final products. In order to ensure that the Cu-β-CD silica catalyst is efficient and robust, its applicability in Cu(II)-catalyzed alkyne azide reactions in the absence of a reducing agent has been explored. The presence of β-CD and an amino spacer has been shown to be crucial for the reactivity of Cu(II), when supported.
View Full-Text
►

▼

Figures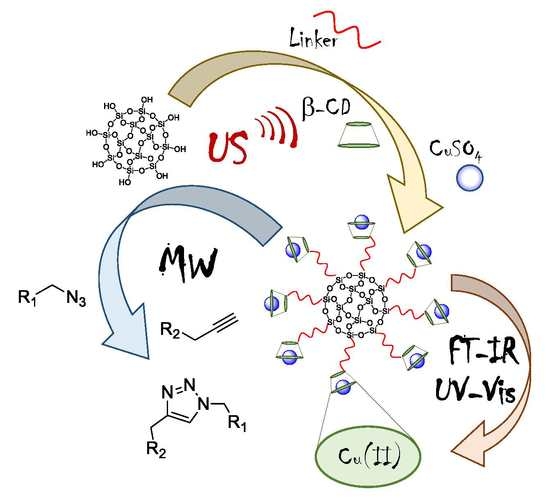 Graphical abstract
This is an open access article distributed under the
Creative Commons Attribution License
which permits unrestricted use, distribution, and reproduction in any medium, provided the original work is properly cited (CC BY 4.0).

Share & Cite This Article
MDPI and ACS Style
Martina, K.; Calsolaro, F.; Zuliani, A.; Berlier, G.; Chávez-Rivas, F.; Moran, M.J.; Luque, R.; Cravotto, G. Sonochemically-Promoted Preparation of Silica-Anchored Cyclodextrin Derivatives for Efficient Copper Catalysis. Molecules 2019, 24, 2490.
Note that from the first issue of 2016, MDPI journals use article numbers instead of page numbers. See further details here.
Related Articles
Comments
[Return to top]