Encapsulated Microparticles of (1→6)-β-
d

-Glucan Containing Extract of

Baccharis dracunculifolia

: Production and Characterization

1

Chemistry Department, Universidade Estadual do Centro Oeste, Rua Simeão Varela de Sá, 03, Vila Carli, CEP, Guarapuava, PR 85040-080, Brazil

2

Chemistry Department, Universidade Tecnológica Federal do Paraná, Via do Conhecimento, Km 1, CEP, Pato Branco, PR 85503-390, Brazil

3

Department of Pathology, University of Louisville, 511 S. Floyd St, Louisville, KY 40292, USA

4

Chemistry Department, CCE, Universidade Estadual de Londrina, CEP, Londrina, PR 86057-970, Brazil

5

Programa de Pós-Graduação em Engenharia Ambiental, Universidade Tecnológica Federal do Paraná, Câmpus Londrina, CEP, Londrina, PR 86036-370, Brazil

*

Author to whom correspondence should be addressed.

Academic Editor: Tran Dang Xuan

Received: 6 May 2019 / Revised: 27 May 2019 / Accepted: 31 May 2019 / Published: 3 June 2019
Abstract
β-Glucans are biomacromolecules well known, among other biological activities, for their immunomodulatory potential. Similarly, extracts of
Baccharis dracunculifolia
also possess biological properties and are used in folk medicine for the treatment of inflammation, ulcers, and hepatic diseases. Microparticles containing (1→6)-β-
d
-glucan (lasiodiplodan) and
B. dracunculifolia
extract were produced and characterized. A 2
3
factorial design was employed to define the conditions of production of microparticles by atomization. Lasiodiplodan associated with maltodextrin and gum arabic was studied as a matrix material. Microparticles of 0.4 μm mean size and high phenolics content (3157.9 μg GAE/g) were obtained under the optimized conditions. The microparticle size ranged from 0.23 to 1.21 µm, and the mathematical model that best represented the release kinetics of the extract was the Korsmeyer-Peppas model. Diffusional exponent (n) values of 0.64 at pH 7.7 and 1.15 at pH 2.61 were found, indicating particles with a non-Fickian or anomalous transport system, and Super Case II transport, respectively. Thermal analysis indicated that the microparticles demonstrated high thermal stability. The X-ray diffraction analyses revealed an amorphous structure, and HPLC-DAD analysis showed microparticles rich in phenolic compounds: caffeic acid, p-coumaric acid, and catechin. The microparticles obtained comprise a new biomaterial with biological potential for applications in different fields.
View Full-Text
►

▼

Figures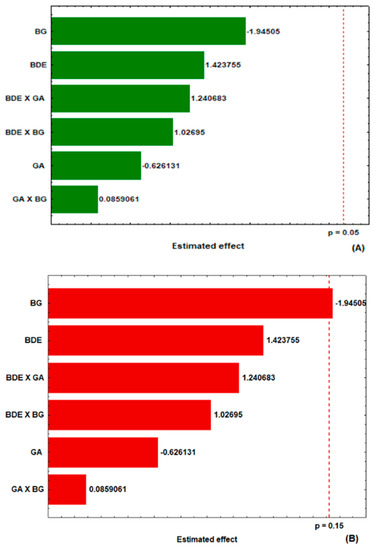 Figure 1
This is an open access article distributed under the
Creative Commons Attribution License
which permits unrestricted use, distribution, and reproduction in any medium, provided the original work is properly cited (CC BY 4.0).

Share & Cite This Article
MDPI and ACS Style
Iurckevicz, G.; Dahmer, D.; Q. Santos, V.A.; Vetvicka, V.; M. Barbosa-Dekker, A.; F. H. Dekker, R.; Maneck Malfatti, C.R.; A. da Cunha, M.A. Encapsulated Microparticles of (1→6)-β-d-Glucan Containing Extract of Baccharis dracunculifolia: Production and Characterization. Molecules 2019, 24, 2099.
Note that from the first issue of 2016, MDPI journals use article numbers instead of page numbers. See further details here.
Related Articles
Comments
[Return to top]