Phytochemical Characterization and Evaluation of the Antimicrobial, Antiproliferative and Pro-Apoptotic Potential of
Ephedra alata

Decne. Hydroalcoholic Extract against the MCF-7 Breast Cancer Cell Line

1

Department of Pharmacognosy, University of Medicine and Pharmacy "Victor Babeş", Eftimie Murgu Square, No. 2, 300041 Timişoara, România

2

Department of Microbiology, University of Medicine and Pharmacy "Victor Babeş", Eftimie Murgu Square, No. 2, 300041 Timişoara, România

3

Department of Food Control, Banat's University of Agricultural Sciences and Veterinary Medicine "King Michael I of Romania" from Timisoara, Calea Aradului No. 119, 300641 Timisoara, Romania

4

Department of Pharmaceutical Physics, University of Medicine and Pharmacy "Victor Babeş", Eftimie Murgu Square, No. 2, 300041 Timişoara, România

5

Department of Drug analysis; chemistry of the environment and food, University of Medicine and Pharmacy "Victor Babeş", Eftimie Murgu Square, No. 2, 300041 Timişoara, România

6

OncoGen Centre, County Hospital "Pius Branzeu", Blvd. Liviu Rebreanu 156, 300736 Timisoara, Romania

7

Department of Pharmacodynamics and Biopharmacy, University of Szeged, Eötvös u. 6., H-6720 Szeged, Hungary

8

Department of Pharmacology and Clinical Pharmacy, University of Medicine and Pharmacy "Victor Babeş", Eftimie Murgu Square, No. 2, 300041 Timişoara, România

9

Department of Pharmacognosy, Faculty of Pharmacy, "Grigore T.Popa" University of Medicine and Pharmacy, 700115 Iasi, Romania

10

Department of Pharmaceutical chemistry, University of Medicine and Pharmacy "Victor Babeş", Eftimie Murgu Square, No. 2, 300041 Timişoara, România

11

Department of Toxicology, University of Medicine and Pharmacy "Victor Babeş", Eftimie Murgu Square, No. 2, 300041 Timişoara, România

†

These authors contribute equally to this work.

*

Authors to whom correspondence should be addressed.

Academic Editors: Natália Martins and Gertjan van Dijk

Received: 21 November 2018 / Revised: 12 December 2018 / Accepted: 19 December 2018 / Published: 20 December 2018
Abstract
Ephedra alata
Decne. belongs to the
Ephedraceae
family. It is a species of Ephedra that grows mostly in the desert. Today, the main importance of
Ephedra
species in the medical field is due to the presence of the alkaloids derived from phenyl-alanine, which act on the sympathetic nervous system as a sympathomimetic. The aim of this study was to conduct a phytochemical characterization of the hydroalcoholic extract of the aerial part of
Ephedra alata
Decne., which is indigenous to Tunis, that involves the total phenolic content, individual phenolic content, and antioxidant activity as well as a biological screening for the evaluation of the antimicrobial, antifungal, antiproliferative, pro-apoptotic, and cytotoxic potential against the MCF-7 breast cancer cell line. The results show that the hydroalcoholic extract contains polyphenolic phytocompounds (156.226 ± 0.5 mgGAE/g extract) and elicits antioxidant activity (7453.18 ± 2.5 μmol Trolox/g extract). The extract acted as a bacteriostatic agent against all tested bacterial strains, but was bactericidal only against the Gram-positive cocci and
Candida
spp. In the set experimental parameters, the extract presents antiproliferative, pro-apoptotic, and cytotoxic potential against the MCF-7 human breast cancer cell line.
View Full-Text
►

▼

Figures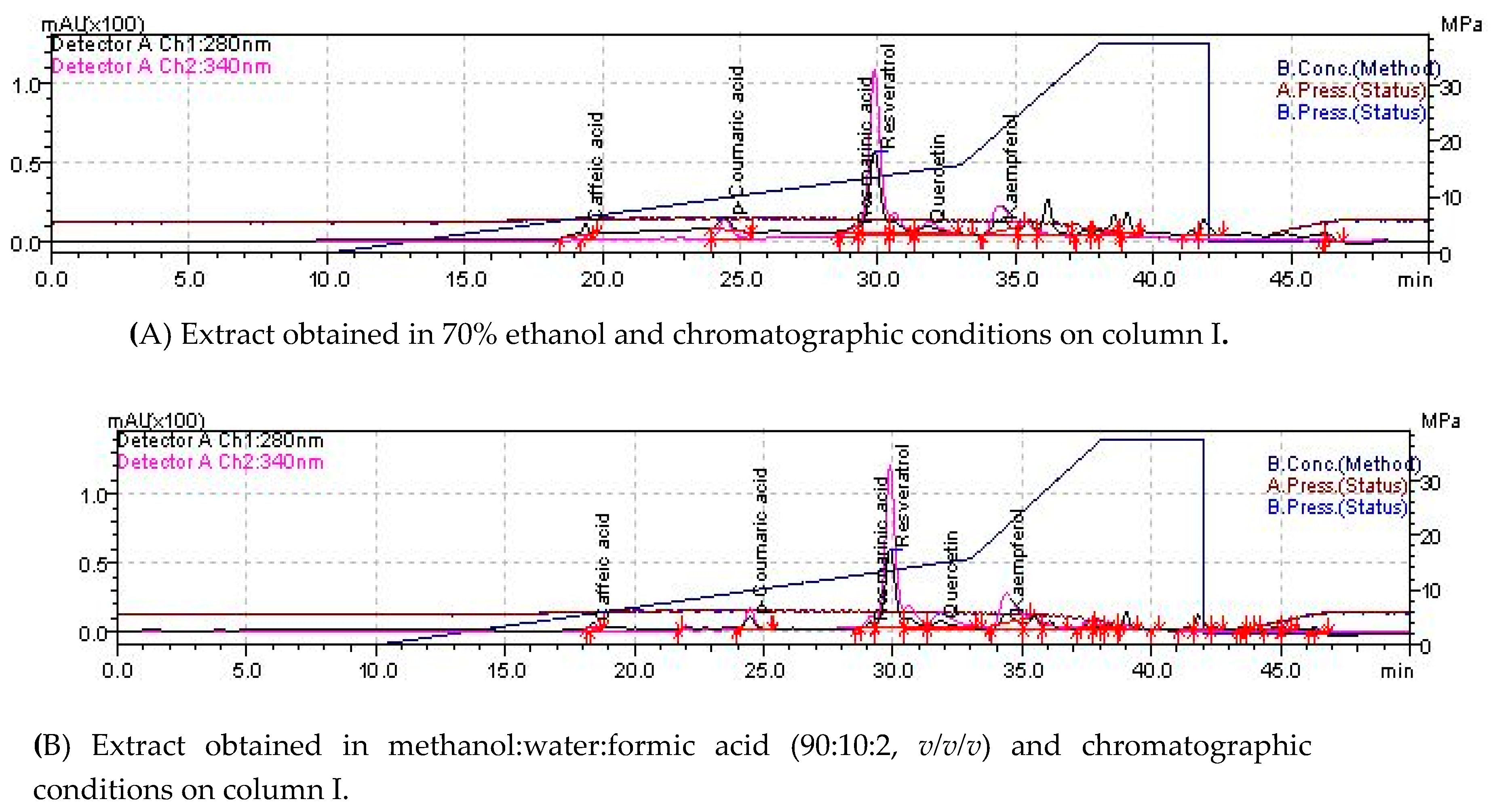 Figure 1
This is an open access article distributed under the
Creative Commons Attribution License
which permits unrestricted use, distribution, and reproduction in any medium, provided the original work is properly cited (CC BY 4.0).

Share & Cite This Article
MDPI and ACS Style
Danciu, C.; Muntean, D.; Alexa, E.; Farcas, C.; Oprean, C.; Zupko, I.; Bor, A.; Minda, D.; Proks, M.; Buda, V.; Hancianu, M.; Cioanca, O.; Soica, C.; Popescu, S.; Dehelean, C.A. Phytochemical Characterization and Evaluation of the Antimicrobial, Antiproliferative and Pro-Apoptotic Potential of Ephedra alata Decne. Hydroalcoholic Extract against the MCF-7 Breast Cancer Cell Line. Molecules 2019, 24, 13.
Note that from the first issue of 2016, MDPI journals use article numbers instead of page numbers. See further details here.
Related Articles
Comments
[Return to top]