Sanggenon C Stimulates Osteoblastic Proliferation and Differentiation, Inhibits Osteoclastic Resorption, and Ameliorates Prednisone-Induced Osteoporosis in Zebrafish Model
1
Guizhou Engineering Research Center for the Exploitation and Utilization Technology of Medicine and Food Dual-Use Resources, Guizhou University, Guiyang 550025, China
2
College of Pharmacy, Guizhou University of Chinese Medicine, Guiyang 550025, China
3
School of Food and Pharmaceutical Manufacture Engineering, Guizhou Institute of Technology, Guiyang 550003, China
*
Author to whom correspondence should be addressed.
Received: 17 July 2018 / Revised: 3 September 2018 / Accepted: 6 September 2018 / Published: 13 September 2018
Abstract
Sanggenon C (SC), which is a natural flavonoid found in the stem bark of Cortex Mori, has been discovered to have the antioxidant, anti-inflammatory, and antitumor properties. However, its effect in osteoporosis has not yet been reported. In this research, the effect of SC on the proliferation of MC3T3-E1 cells was evaluated by using the MTT assay. Alkaline phosphatase (ALP) activity and the mRNA expression of
Runx2
,
Collagen I
,
OPG
, and
RANKL
were examined. TRAP-positive cell counting and bone resorption pits were adopted to observe the effect of SC on the formation and function of osteoclasts. Next, the mRNA level of
TRAP
,
CTSK
,
NFATc1
, and
TRAF6
of osteoclasts were measured by real-time qPCR. In addition, the anti-osteoporosis activity of SC in vivo was evaluated in the zebrafish model. Our study indicated that SC exhibited a significant stimulatory effect on MC3T3-E1 cell proliferation at 1 to 10 μM and caused an increase in ALP activity at 0.3 to 10 μM. It could upregulate the expression of
Runx2
,
Collagen I
, and increases the
OPG/RANKL ratio
. Furthermore, SC was found to inhibit the formation and function of osteoclasts, which is demonstrated by a lower number of TRAP-positive multinuclear cells and a fewer area of bone resorption pits compared to the control group.
TRAP
,
CTSK
, and
NFATc1
were downregulated in 0.3 to 10 μM SC treated groups. In addition, 3 to 10 μM SC also inhibited the expression of
TRAF6
mRNA. When prednisone-induced zebrafish was treated with 0.3, 1, 3, and 10 μM SC, higher mineralization of vertebrate column was discovered in a dose-dependent pattern, which suggests that SC could reverse the bone loss of zebrafish caused by prednisone. In summary, these findings indicated that SC has the potential to prevent or treat osteoporosis.
View Full-Text
►

▼

Figures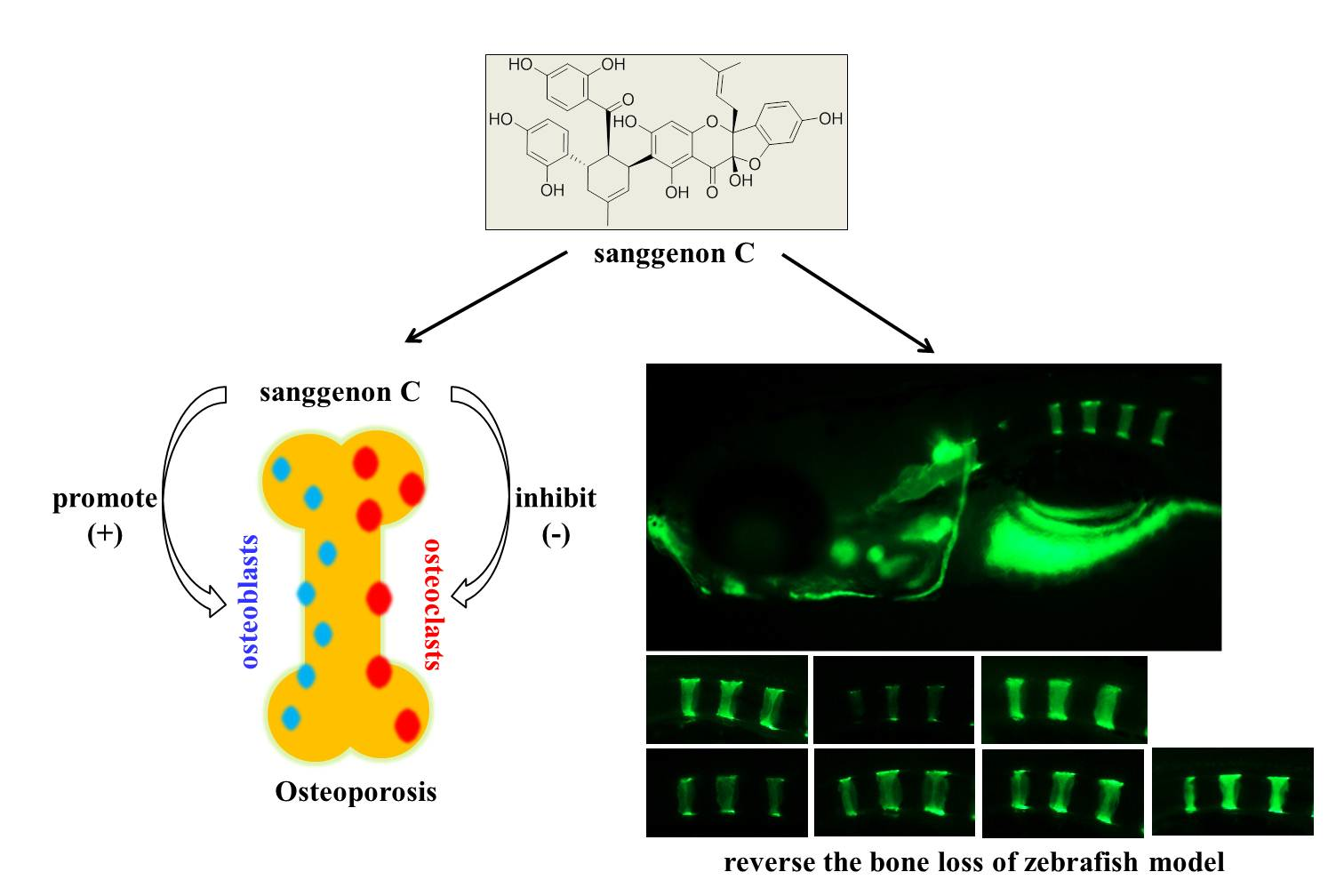 Graphical abstract
This is an open access article distributed under the
Creative Commons Attribution License
which permits unrestricted use, distribution, and reproduction in any medium, provided the original work is properly cited (CC BY 4.0).

Share & Cite This Article
MDPI and ACS Style
Wang, H.; Feng, T.; Guo, D.; Zhang, M.; Chen, L.; Zhou, Y. Sanggenon C Stimulates Osteoblastic Proliferation and Differentiation, Inhibits Osteoclastic Resorption, and Ameliorates Prednisone-Induced Osteoporosis in Zebrafish Model. Molecules 2018, 23, 2343.
Note that from the first issue of 2016, MDPI journals use article numbers instead of page numbers. See further details here.
Related Articles
Comments
[Return to top]