Effect of Melatonin on the Renin-Angiotensin-Aldosterone System in
l

-NAME-Induced Hypertension

1

Institute of Pathophysiology, Faculty of Medicine, Comenius University, Sasinkova 4, 81108 Bratislava, Slovakia

2

3rd Department of Internal Medicine, Faculty of Medicine, Comenius University, 83305 Bratislava, Slovakia

3

Institute of Experimental Endocrinology, Biomedical Research Center, Slovak Academy of Sciences, 84505 Bratislava, Slovakia

4

Attoquant Diagnostics, 1030 Vienna, Austria

5

Department of Physiology, School of Medicine, Charles University, 50003 Hradec Kralove, Czech Republic

6

Department of Cellular and Structural Biology, UT Health Science Center, San Antonio, TX 78229, USA

7

Institute of Normal and Pathological Physiology, Center for Experimental Medicine, Slovak Academy of Sciences, 81371 Bratislava, Slovakia

†

These authors contributed equally to this work.

*

Author to whom correspondence should be addressed.

Received: 20 December 2017 / Revised: 15 January 2018 / Accepted: 25 January 2018 / Published: 29 January 2018
Abstract
The renin-angiotensin-aldosterone system (RAAS) is a dominant player in several cardiovascular pathologies. This study investigated whether alterations induced by
l
-NAME, (NLG)-nitro-
l
-arginine methyl ester, a nitric oxide synthase inhibitor, and the protective effect of melatonin are associated with changes in the RAAS. Four groups of 3-month-old male Wistar rats (
n
= 10) were treated as follows for four weeks: untreated controls, rats treated with melatonin (10 mg/kg/day), rats treated with
l
-NAME (40 mg/kg/day), and rats treated with
l
-NAME + melatonin.
l
-NAME administration led to hypertension and left ventricular (LV) fibrosis in terms of enhancement of soluble, insoluble and total collagen concentration and content. Melatonin reduced systolic blood pressure enhancement and lowered the concentration and content of insoluble and total collagen in the LV. The serum concentration of angiotensin (Ang) 1–8 (Ang II) and its downstream metabolites were reduced in the
l
-NAME group and remained unaltered by melatonin. The serum aldosterone level and its ratio to Ang II (AA2-ratio) were increased in the
l
-NAME group without being modified by melatonin. We conclude that
l
-NAME-hypertension is associated with reduced level of Ang II and its downstream metabolites and increased aldosterone concentration and AA2-ratio. Melatonin exerts its protective effect in
l
-NAME-induced hypertension without affecting RAAS.
View Full-Text
►

▼

Figures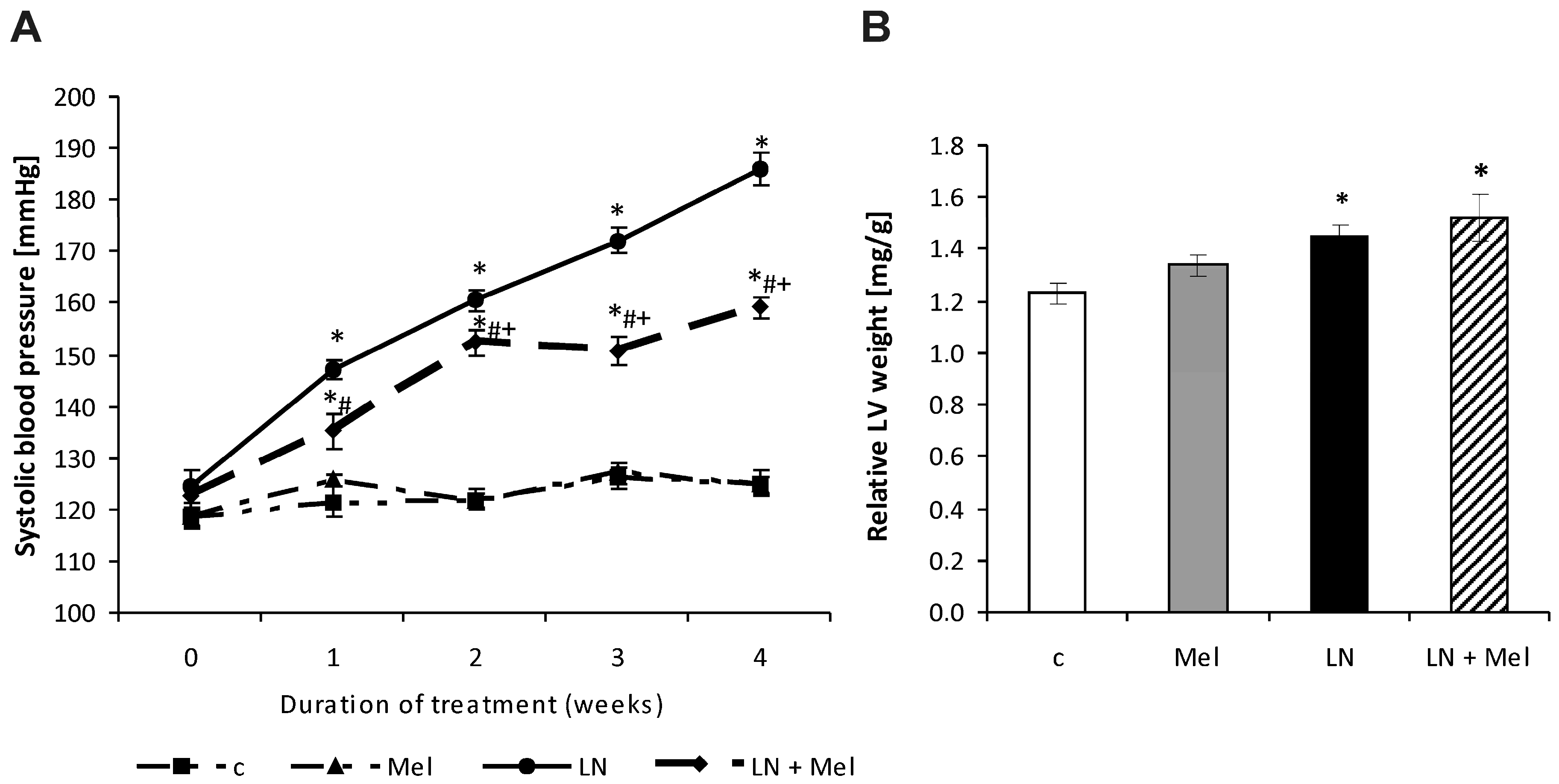 Figure 1
This is an open access article distributed under the
Creative Commons Attribution License
which permits unrestricted use, distribution, and reproduction in any medium, provided the original work is properly cited (CC BY 4.0).

Share & Cite This Article
MDPI and ACS Style
Simko, F.; Baka, T.; Krajcirovicova, K.; Repova, K.; Aziriova, S.; Zorad, S.; Poglitsch, M.; Adamcova, M.; Reiter, R.J.; Paulis, L. Effect of Melatonin on the Renin-Angiotensin-Aldosterone System in l-NAME-Induced Hypertension. Molecules 2018, 23, 265.
Note that from the first issue of 2016, MDPI journals use article numbers instead of page numbers. See further details here.
Related Articles
Comments
[Return to top]