Steric Effect of Antioxidant Diels-Alder-Type Adducts: A Comparison of Sanggenon C with Sanggenon D
1
School of Chinese Herbal Medicine, Guangzhou University of Chinese Medicine, Guangzhou 510006, China
2
Innovative Research & Development Laboratory of TCM, Guangzhou 510006, China
3
School of Basic Medical Science, Guangzhou University of Chinese Medicine, Guangzhou 510006, China
4
The Research Center of Basic Integrative Medicine, Guangzhou University of Chinese Medicine, Guangzhou 510006, China
5
School of Biomedical Sciences, Faculty of Medicine, The Chinese University of Hong Kong, Sha Tin, Hong Kong 999077, China
*
Authors to whom correspondence should be addressed.
†
These authors contributed equally to this work.
Received: 18 July 2018 / Revised: 8 October 2018 / Accepted: 10 October 2018 / Published: 11 October 2018
Abstract
Sanggenons C and D are two Diels-Alder-type adducts from Chinese crude drug Sang-bai-pi. Structurally, both sanggenons construct stereoisomers. In the study, they were comparatively determined using four antioxidant assays, including ferric ion reducing antioxidant power (FRAP) assay, Cu
2+
-reducing assay, 1,1-diphenyl-2-picryl-hydrazl (DPPH•)-scavenging assay, and 2,2′-azino-bis (3-ethylbenzo-thiazoline-6-sulfonic acid radical (ABTS•
+
)-scavenging assay. Their Fe
2+
-binding reactions were explored using UV-Vis spectra. Finally, their cytoprotective effects were evaluated using flow cytometry. In electron transfer (ET)-based FRAP and Cu
2+
-reducing assays, sanggenon D was found to have lower IC
50
values than sanggenon C; however, in multi-pathway-based DPPH•-scavenging and ABTS•
+
-scavenging assays, sanggenon C possessed lower IC
50
values than sanggenon D. UV-Vis spectra suggested that sanggenon C generated a bathochromic-shift (286 nm → 302 nm) and displayed stronger UV absorption than sanggenon D. In flow cytometry, sanggenon C and sanggenon D, respectively, exhibited 31.1% and 42.0% early apoptosis-percentages towards oxidative-stressed mesenchymal stem cells (MSCs). In conclusion, both sanggenons may undergo multiple pathways (e.g., ET and Fe
2+
-binding) to protect MSCs against oxidative stress. In the mere ET aspect, sanggenon D possesses a higher level than sanggenon C, while in multi-pathway-based radical-scavenging, Fe
2+
-binding, and cytoprotection aspects, sanggenon C is more active than sanggenon D. These discrepancies can conclusively be attributed to the steric effect.
View Full-Text
►

▼

Figures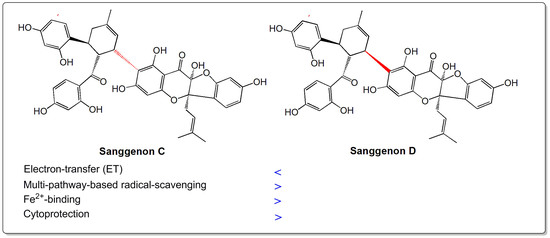 Graphical abstract
This is an open access article distributed under the
Creative Commons Attribution License
which permits unrestricted use, distribution, and reproduction in any medium, provided the original work is properly cited (CC BY 4.0).

Share & Cite This Article
MDPI and ACS Style
Li, X.; Ren, Z.; Wu, Z.; Fu, Z.; Xie, H.; Deng, L.; Jiang, X.; Chen, D. Steric Effect of Antioxidant Diels-Alder-Type Adducts: A Comparison of Sanggenon C with Sanggenon D. Molecules 2018, 23, 2610.
Note that from the first issue of 2016, MDPI journals use article numbers instead of page numbers. See further details here.
Related Articles
Comments
[Return to top]