Docosahexaenoic Acid Induces Expression of Heme Oxygenase-1 and NAD(P)H:quinone Oxidoreductase through Activation of Nrf2 in Human Mammary Epithelial Cells
1
Tumor Microenvironment Global Core Research Center and Research Institute of Pharmaceutical Sciences, Seoul National University, Seoul 08826 Korea
2
Cancer Research Institute, Seoul National University, Seoul 03080, Korea
3
Department of Molecular Medicine and Biopharmaceutical Sciences, College of Pharmacy, Seoul National University, Seoul 08826, Korea
4
Department of Food and Nutrition, College of Human Ecology, Sungshin Women's University, Seoul 01133, Korea
*
Author to whom correspondence should be addressed.
†
These authors contributed equally to this work.
Academic Editor: Diego Muñoz-Torrero
Received: 6 March 2017 / Revised: 4 June 2017 / Accepted: 5 June 2017 / Published: 10 June 2017
Abstract
Docosahexaenoic acid (DHA), an ω-3 fatty acid abundant in fish oils, has diverse health beneficial effects, such as anti-oxidative, anti-inflammatory, neuroprotective, and chemopreventive activities. In this study, we found that DHA induced expression of two representative antioxidant/cytoprotective enzymes, heme oxygenase-1 (HO-1) and NAD(P)H:quinone oxidoreductase (NQO1), in human mammary epithealial (MCF-10A) cells. DHA-induced upregulation of these enzymes was accompanied by enhanced translocation of the redox-sensitive transcription factor Nrf2 into the nucleus and its binding to antioxidant response element. Nrf2 gene silencing by siRNA abolished the DHA-induced expression of HO-1 and NQO1 proteins. When MCF-10A cells were transfected with mutant constructs in which the cysteine 151 or 288 residue of Keap1 was replaced by serine, DHA-induced expression of HO-1 and NQO1 was markedly reduced. Moreover, DHA activated protein kinase C (PKC)δ and induced Nrf2 phosphorylation. DHA-induced phosphorylation of Nrf2 was abrogated by the pharmacological PKCδ inhibitor rottlerin or siRNA knockdown of its gene expression. The antioxidants
N
-acetyl-
l
-cysteine and Trolox attenuated DHA-induced activation of PKCδ, phosphorylation of Nrf2, and and its target protein expression. In conclusion, DHA activates Nrf2, possibly through modification of critical Keap1 cysteine 288 residue and PKCδ-mediated phosphorylation of Nrf2, leading to upregulation of HO-1 and NQO1 expression.
View Full-Text
►

▼

Figures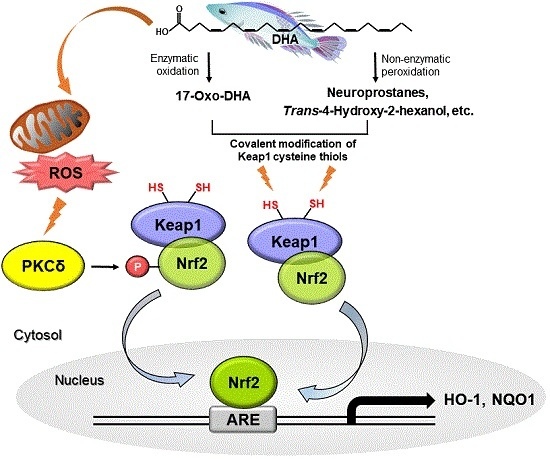 Graphical abstract
This is an open access article distributed under the
Creative Commons Attribution License
which permits unrestricted use, distribution, and reproduction in any medium, provided the original work is properly cited (CC BY 4.0).

Share & Cite This Article
MDPI and ACS Style
Bang, H.-Y.; Park, S.-A.; Saeidi, S.; Na, H.-K.; Surh, Y.-J. Docosahexaenoic Acid Induces Expression of Heme Oxygenase-1 and NAD(P)H:quinone Oxidoreductase through Activation of Nrf2 in Human Mammary Epithelial Cells. Molecules 2017, 22, 969.
Note that from the first issue of 2016, MDPI journals use article numbers instead of page numbers. See further details here.
Related Articles
Comments
[Return to top]