Intramolecular Hydrogen Bonds in Conformers of Quinine and Quinidine: An HF, MP2 and DFT Study
Department of Chemistry, University of Venda, Thohoyandou 0950, South Africa
*
Author to whom correspondence should be addressed.
Academic Editor: Steve Scheiner
Received: 28 October 2016 / Revised: 16 December 2016 / Accepted: 28 December 2016 / Published: 7 February 2017
Abstract
Quinine is an alkaloid with powerful antimalarial activity, isolated from the bark of Peru's cinchona trees. Quinidine is an erythro diastereoisomer of quinine also exhibiting antimalarial activity. Conformational studies performed so far had never identified conformers with intramolecular hydrogen bonds (IHB). The current study shows the possibility of conformers with an IHB between the quinuclidine and quinoline moieties of these molecules. The study was performed at different levels of theory: Hartree Fock (HF) with the 6-31G(d,p) basis set, Density Functional Theory (DFT) with the B3LYP functional and the 6-31+G(d,p) basis set and Møller–Plesset Perturbation Theory (MP2) with the 6-31+G(d,p) basis set, to confirm the results. The results suggest that the stabilising effect of this IHB is weaker or comparable with respect to the stabilising effect of the preferred mutual orientation of the two moieties. Although the IHB-containing conformers may not be the lowest energy ones, their relative energy is sufficiently low for them to be included among the possible ones responsible for the compounds' antimalarial activity.
View Full-Text
►

▼

Figures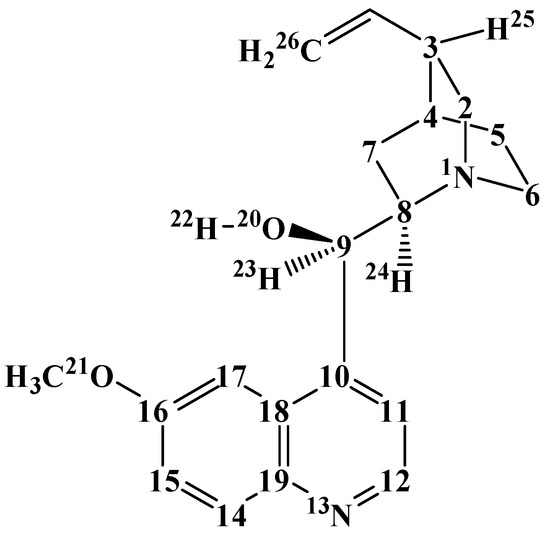 Figure 1
This is an open access article distributed under the
Creative Commons Attribution License
which permits unrestricted use, distribution, and reproduction in any medium, provided the original work is properly cited (CC BY 4.0).

Share & Cite This Article
MDPI and ACS Style
Bilonda, M.K.; Mammino, L. Intramolecular Hydrogen Bonds in Conformers of Quinine and Quinidine: An HF, MP2 and DFT Study. Molecules 2017, 22, 245.
Note that from the first issue of 2016, MDPI journals use article numbers instead of page numbers. See further details here.
Related Articles
Comments
[Return to top]