10-Undecenoic Acid, an Inexpensive Source for the Synthesis of the Pheromones of Cotton Pests, Peach Tree Borer and Cherry Tree Borer
Bio-Organic Division, Bhabha Atomic Research Centre, Bombay-400 085, India
*
Author to whom correspondence should be addressed.
Received: 10 January 1997 / Accepted: 4 April 1997 / Published: 10 June 1997
Abstract
The aldehyde 7, derived from 10-undecenoic acid (5) on
cis
-selective Wittig reaction with pentylidenetriphenylphosphorane, subsequent deprotection and oxidation gave the pheromone (11Z)-hexadecenal (1). Wittig-Horner olefination of 1 with the phosphonate 9 furnished the conjugated ester 10 which on base catalyzed isomerization to the (3Z)-ester 11 followed by LAH reduction and acetylation gave (3Z,13Z)-octadeadien-1-yl acetate (2). Compound 10 on the other hand was chemoselectively reduced and acetylated to furnish the pheromone (2E,13Z)-octadeadien-1-yl acetate (4). For the synthesis of (3E,13Z)-octadeadien-1-yl acetate (3), 1 was condensed with malonic acid under modified condition to afford the acid 13 which was converted to 3 by standard reaction protocol.
View Full-Text
►

▼

Figures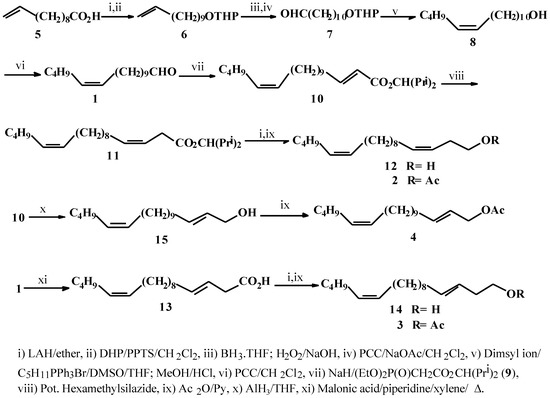 Scheme 1

Share & Cite This Article
MDPI and ACS Style
Pawar, A.S.; Chattopadhyay, S. 10-Undecenoic Acid, an Inexpensive Source for the Synthesis of the Pheromones of Cotton Pests, Peach Tree Borer and Cherry Tree Borer. Molecules 1997, 2, 87-90.
Related Articles
Comments
[Return to top]