An Improved Synthesis of 4-Chlorocoumarin-3-sulfonyl Chloride and Its Reactions with Different Bidentate Nucleophiles to Give Pyrido[1',2':2,3]- and Thiazino[3',2':2,3]-1,2,4-Thiadiazino[6,5-c]Benzopyran-6-one 7,7-Dioxides
1
Group of Physics and Chemistry, Faculty of Natural Sciences and Mathematics, State University of Tetova, 1200 Tetova, Macedonia
2
Faculty of Chemistry and Mineralogy, University of Leipzig, Johannsallee 29, D-04103 Leipzig, Germany
3
Institute of Organic Chemistry with Centre of Phytochemistry, Bulgarian Academy of Sciences, Akad.G.Bonchev Str. Bl.9, Sofia 1113, Bulgaria
4
Institute of Organic Chemistry, University of Hannover, D-30167, Hannover, Germany
5
Institute of Chemistry, Faculty of Natural Sciences and Mathematics, Ss. Cyril and Methodius University, PO Box 162, 1000 Skopje, Macedonia
*
Authors to whom correspondence should be addressed.
Received: 3 June 2007 / Revised: 8 August 2007 / Accepted: 8 August 2007 / Published: 22 August 2007
Abstract
An improved synthetic method affording 4-chlorocoumarin-3-sulfonyl chloride (4) in very good yield (ca. 85 %) is reported. This compound was reacted with various bidentate nucleophiles such as 2-aminopyridines and 2-aminothiazoles in order to obtain substituted pyrido- and thiazino-1,2,4-thiadiazino-benzopyranone dioxides (potential anticancer and anti-HIV agents). These reactions occurred rapidly at room temperature giving yellowish precipitates, which are insoluble in common organic solvents, making the purification process challenging. Further investigation has shown that these fused heterocycles are not stable and decompose with opening of the 1,2,4-thiadiazine ring.
View Full-Text
►

▼

Figures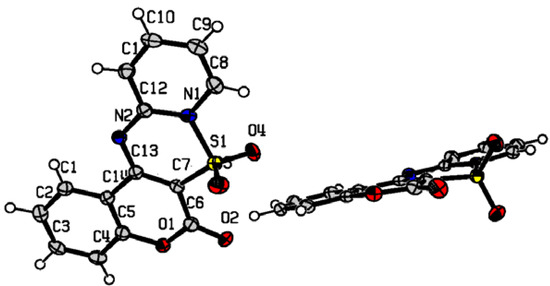 Figure 1

Share & Cite This Article
MDPI and ACS Style
Jashari, A.; Hey-Hawkins, E.; Mikhova, B.; Draeger, G.; Popovski, E. An Improved Synthesis of 4-Chlorocoumarin-3-sulfonyl Chloride and Its Reactions with Different Bidentate Nucleophiles to Give Pyrido[1',2':2,3]- and Thiazino[3',2':2,3]-1,2,4-Thiadiazino[6,5-c]Benzopyran-6-one 7,7-Dioxides. Molecules 2007, 12, 2017-2028.
Related Articles
Comments
[Return to top]