Open Access
Article
Glycosaminoglycans from a Sea Snake (Lapemis curtus): Extraction, Structural Characterization and Antioxidant Activity
Received: 10 April 2018 / Revised: 7 May 2018 / Accepted: 10 May 2018 / Published: 18 May 2018
PDF Full-text (3233 KB) | HTML Full-text | XML Full-text
Abstract
Sea snakes have wide application prospects in medicine, health food and other fields. Several novel polysaccharides were successfully obtained from the skin and the meat of a sea snake (Lapemis curtus). The structures of polysaccharides LSP3 and LMP3, which were extracted
[...] Read more.
Sea snakes have wide application prospects in medicine, health food and other fields. Several novel polysaccharides were successfully obtained from the skin and the meat of a sea snake (
Lapemis curtus
). The structures of polysaccharides LSP3 and LMP3, which were extracted and purified from
Lapemis curtus
, were determined to be new and highly heterogenic glycosaminoglycans (GAGs) by means of FT-IR, ESI-MS/MS and NMR. LSP3 is a hybrid dermatan sulfate (DS) and composed of 48% 4-sulfated disaccharides (Di4S), 42% 6-sulfated disaccharides (Di6S) and 5% disulfated disaccharides (Di2,6S), while LMP3 is a hybrid chondroitin sulfate (CS) and composed of 70% Di4S, 20% Di6S, and 8% Di2,6S. More importantly, LSP3 and LMP3 showed a strong scavenging ability of 1,1-diphenyl-2-picrylhydrazyl (DPPH) radicals, iron (Fe
2+
) chelating activity and total antioxidant capacity in vitro, especially LSP3, with high contents of uronic acid and sulfate, which possessed a higher scavenging ability of DPPH radicals than other fractions. These data suggested that the sea snake polysaccharides could be promising candidates for natural antioxidant ingredients.
Full article
►

▼

Figures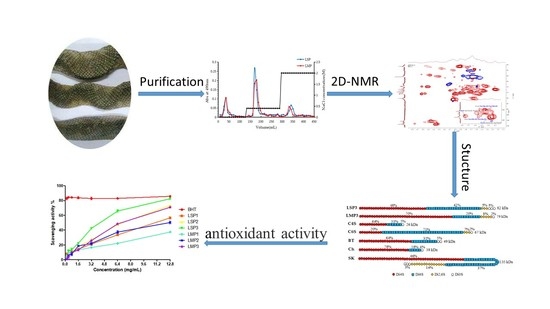 Graphical abstract