Open Access
Article
Preparation, Characterization and Properties of Alginate/Poly(γ-glutamic acid) Composite Microparticles
Received: 27 November 2016 / Revised: 12 March 2017 / Accepted: 20 March 2017 / Published: 11 April 2017
PDF Full-text (2924 KB) | HTML Full-text | XML Full-text | Supplementary Files
Abstract
Alginate (Alg) is a renewable polymer with excellent hemostatic properties and biocapability and is widely used for hemostatic wound dressing. However, the swelling properties of alginate-based wound dressings need to be promoted to meet the requirements of wider application. Poly(γ-glutamic acid)
[...] Read more.
Alginate (Alg) is a renewable polymer with excellent hemostatic properties and biocapability and is widely used for hemostatic wound dressing. However, the swelling properties of alginate-based wound dressings need to be promoted to meet the requirements of wider application. Poly(
γ
-glutamic acid) (PGA) is a natural polymer with high hydrophility. In the current study, novel Alg/PGA composite microparticles with double network structure were prepared by the emulsification/internal gelation method. It was found from the structure characterization that a double network structure was formed in the composite microparticles due to the ion chelation interaction between Ca
2+
and the carboxylate groups of Alg and PGA and the electrostatic interaction between the secondary amine group of PGA and the carboxylate groups of Alg and PGA. The swelling behavior of the composite microparticles was significantly improved due to the high hydrophility of PGA. Influences of the preparing conditions on the swelling behavior of the composites were investigated. The porous microparticles could be formed while compositing of PGA. Thermal stability was studied by thermogravimetric analysis method. Moreover, in vitro cytocompatibility test of microparticles exhibited good biocompatibility with L929 cells. All results indicated that such Alg/PGA composite microparticles are a promising candidate in the field of wound dressing for hemostasis or rapid removal of exudates.
Full article
►

▼

Figures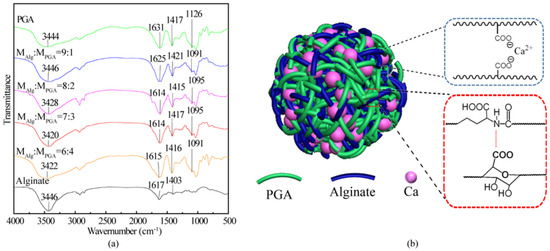 Figure 1