Involvement of Polyamine Metabolism in the Response of Medicago truncatula Genotypes to Salt Stress
Cited by 11
| Viewed by 2401
Abstract
Salinity constitutes one of the most important causes leading to severe reduction in plant yield. Several reports correlate the accumulation of polyamines in plants with tolerance to abiotic stress cues. The present study examined three
Medicago truncatula
genotypes with differing sensitivities to salinity
[...] Read more.
Salinity constitutes one of the most important causes leading to severe reduction in plant yield. Several reports correlate the accumulation of polyamines in plants with tolerance to abiotic stress cues. The present study examined three
Medicago truncatula
genotypes with differing sensitivities to salinity (TN1.11, tolerant; Jemalong A17, moderately sensitive; TN6.18, sensitive), with the aim of examining the genotype-specific involvement of the polyamine metabolic pathway in plant response to salinity. The study was carried out with leaves harvested 48 h after watering plants with 200 mM NaCl. A comprehensive profile of free polyamines was determined using high performance liquid chromatography. All genotypes showed spermidine and spermine as the most abundant polyamines under control conditions. In salinity conditions, spermine levels increased at the expense of putrescine and spermidine, indicating a drift of polyamine metabolism towards the synthesis of increasing polycationic forms as a stress response. The increasing balance between high and low polycationic forms was clearly diminished in the salt-sensitive genotype TN6.18, showing a clear correlation with its sensitive phenotype. The polyamine metabolic profile was then supported by molecular evidence through the examination of polyamine metabolism transcript levels by RT-qPCR. General suppression of genes that are involved upstream in the PA biosynthetic pathway was determined. Contrarily, an induction in the expression of genes involved in the biosynthesis of spermine and spermidine was observed, in agreement with the metabolic analysis. A significant induction in diamino oxidase expression, involved in the catabolism of putrescine, was specifically found in the sensitive genotype ΤΝ6.18, indicating a distinct metabolic response to stress. Present findings highlight the involvement of polyamines in the defense response of
Medicago
genotypes showing sensitivity to salt stress.
Full article
►

▼

Show Figures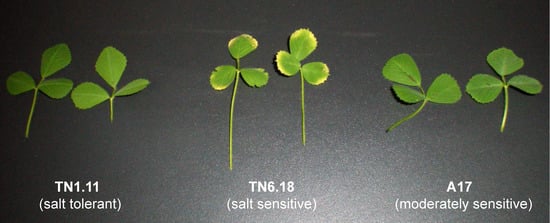 Figure 1