First Population Study on Winter Breeding Monarch Butterflies, Danaus plexippus (Lepidoptera: Nymphalidae) in the Urban South Bay of San Francisco, California
Viewed by 512
Abstract
The western North American monarch butterfly population assessed by counts of non-reproductive overwintering butterflies at coastal sites in California declined to less than 2000 in 2020/21. Simultaneously, reports of reproductive monarchs increased in San Francisco urban areas, perhaps representing a shift in overwintering
[...] Read more.
The western North American monarch butterfly population assessed by counts of non-reproductive overwintering butterflies at coastal sites in California declined to less than 2000 in 2020/21. Simultaneously, reports of reproductive monarchs increased in San Francisco urban areas, perhaps representing a shift in overwintering strategy. To better understand monarch winter breeding in the Bay area, we studied adult and immature populations in Santa Clara County during January–June 2021. Adult monarchs were common with numbers ranging from 0.23–1.54/min during ~30 min weekly surveys at one site, with lowest numbers late April to mid-May. Eggs and larvae, primarily on ornamental milkweeds, were found on nearly all survey dates with lowest numbers mid-late April to mid-May. Levels of infection of adults by the parasite
Ophryocystis elektroscirrha
were consistently high during the study (69.3–77.5%). From 499 monarchs tagged post-eclosion, recovery rates of 19.2–23.6% occurred from releases in January-February and May-June but only 11.9–13.0% from March-April releases. Although distances were small, butterflies tagged in April were recovered from greater distances than other months. Tagged monarchs flew primarily north or east. There were reduced numbers of adult monarchs during late April-mid-May with some evidence of northerly and easterly emigration at the same time from tagged butterflies, suggesting some movement out of the South Bay area, perhaps representing spring migration. We conclude that monarchs can successfully breed and maintain populations on ornamental milkweeds during winter at urban sites in the South Bay of San Francisco and may still migrate during spring to remain part of the wider western population.
Full article
►

▼

Show Figures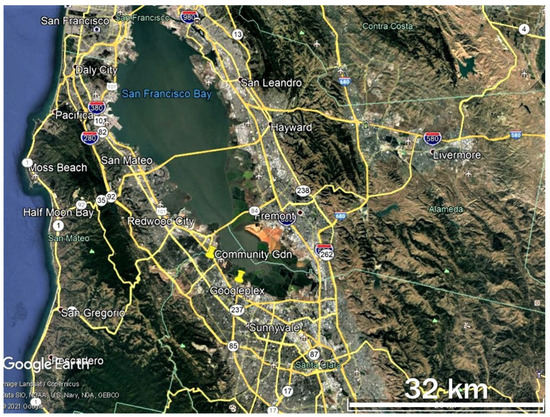 Figure 1