Targeting the RNA-Binding Protein QKI in Myeloid Cells Ameliorates Macrophage-Induced Renal Interstitial Fibrosis
Abstract
In the pathophysiologic setting of acute and chronic kidney injury, the excessive activation and recruitment of blood-borne monocytes prompts their differentiation into inflammatory macrophages, a process that leads to progressive glomerulosclerosis and interstitial fibrosis. Importantly, this differentiation of monocytes into macrophages requires the
[...] Read more.
In the pathophysiologic setting of acute and chronic kidney injury, the excessive activation and recruitment of blood-borne monocytes prompts their differentiation into inflammatory macrophages, a process that leads to progressive glomerulosclerosis and interstitial fibrosis. Importantly, this differentiation of monocytes into macrophages requires the meticulous coordination of gene expression at both the transcriptional and post-transcriptional level. The transcriptomes of these cells are ultimately determined by RNA-binding proteins such as QUAKING (QKI), that define their pre-mRNA splicing and mRNA transcript patterns. Using two mouse models, namely (1)
quaking viable
mice (
qk
v
) and (2) the conditional deletion in the myeloid cell lineage using the lysozyme 2-Cre (
QKI
FL/FL;LysM-Cre
mice), we demonstrate that the abrogation of
QKI
expression in the myeloid cell lineage reduces macrophage infiltration following kidney injury induced by unilateral urethral obstruction (UUO). The
qk
v
and
QKI
FL/FL;LysM-Cre
mice both showed significant diminished interstitial collagen deposition and fibrosis in the UUO-damaged kidney, as compared to wild-type littermates. We show that macrophages isolated from
QKI
FL/FL;LysM-Cre
mice are associated with defects in pre-mRNA splicing. Our findings demonstrate that reduced expression of the alternative splice regulator QKI in the cells of myeloid lineage attenuates renal interstitial fibrosis, suggesting that inhibition of this splice regulator may be of therapeutic value for certain kidney diseases.
Full article
►

▼

Show Figures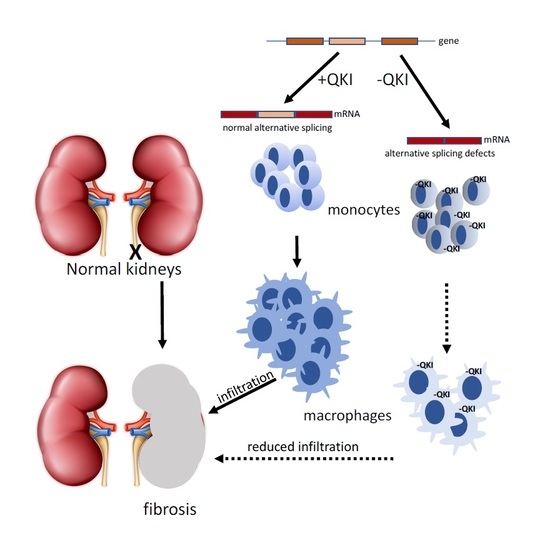 Graphical abstract