Sydnone Imines: A Novel Class of Plant Growth Regulators
Abstract
An increase in the yield of the main cereal crops in the context of global climate changes requires additional impacts on plants. Natural and synthetic plant growth regulators (PGRs) are used to increase plant productivity and reduce the injury level caused by abiotic
[...] Read more.
An increase in the yield of the main cereal crops in the context of global climate changes requires additional impacts on plants. Natural and synthetic plant growth regulators (PGRs) are used to increase plant productivity and reduce the injury level caused by abiotic stressors. There is a growing need for novel highly effective plant growth stimulants to exhibit their effects at low doses and to not pose an environmental threat or injury to the crop quality. The derivatives of sydnone imine (SI), a mesoionic heterocycle possessing a 1,2,3-oxadiazole core, have been used as medicines until now but have not been used for agricultural applications. Some SI derivatives have recently been found to exhibit PGR properties. Herein, we report on the study of the PGR potential of nine SI derivatives bearing variable substituents at N(3), C(4), and N6 positions of the heterocycle designed to disclose the "molecular structure-PGR activity" relationship in this family. The SI derivatives were used in a wide concentration range (10
−9
–10
−4
mol/L) for a pre-sowing treatment of winter wheat (
Triticum aestivum
L., two cultivars) and maize (
Zea mays
L., two hybrids) seeds in germinating experiments. All compounds were found to affect the growth of the axial organs of germinants, with the growth-stimulating or -inhibitory effect as well as its rate being considerably different for wheat and maize and, in many cases, also for roots and shoots. In addition, a pronounced concentration dependence of the effect was disclosed for many cases. The features of the molecular structure of SIs affecting their growth-regulating properties were elucidated. Compounds
4
,
6
,
7
, and
8
, which had exhibited a growth-promoting effect in germinating experiments, were used at appropriate concentrations for pot experiments on the same crops. For all compounds, the experiments showed a stimulating effect on the growth of roots (up to 80%), shoots (up to 112%), leaf area (up to 113%), fresh weights of roots (up to 83%), and aerial parts of the plants (up to 87%) or only on some of these parameters. The obtained results show a healthy outlook for the use of SI derivatives as promoting agents for improving the growth of cereal crop plants.
Full article
►

▼

Show Figures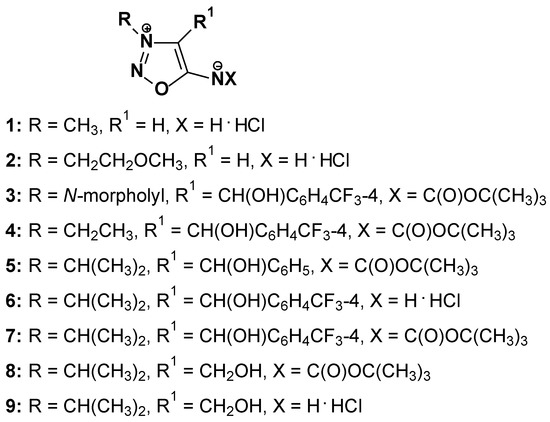 Figure 1