Effect of Beta-Carotene Supplementation on the Serum Oxidative Stress Biomarker and Antibody Titer against Live Bovine Respiratory Syncytial Virus Vaccination in Japanese Black Calves
1
Joint Faculty of Veterinary Medicine, Kagoshima University, Kagoshima 890-0065, Japan
2
Department of Veterinary Medicine, Kyoto Biken Laboratories, Inc., Kyoto 611-0041, Japan
*
Author to whom correspondence should be addressed.
Received: 11 October 2018 / Revised: 11 December 2018 / Accepted: 12 December 2018 / Published: 14 December 2018
Abstract
The purpose of this study was to determine the effect of vaccination and beta-carotene supplementation on blood oxidative stress and antibody response in calves. Thirty Japanese Black calves were randomly assigned to two groups. Fifteen calves received 20 mg of beta-carotene supplemented into their daily provided rations from 2 to 8 weeks of age (BC group), and the other 15 calves did not receive the daily beta-carotene supplement (control group). All calves received a commercially available modified live bovine respiratory syncytial (RS) virus vaccine at 4 and 8 weeks of age. Blood samples were taken at 2, 4, 8, and 12 weeks of age. At 4 weeks of age, the concentration of reactive oxygen metabolites within serum were significantly lower in the BC group than the concentrations measured in the control group. Also at 4 weeks of age, the concentration of biological antioxidant capacity within serum was significantly higher in the BC group than the concentrations measured in the control group. Both groups showed a gradual decrease of antibody titers to live bovine RS virus in the samples taken from 2 to 12 weeks of age. These results confirmed that beta-carotene supplementation decreased oxidative stress. However, beta-carotene supplementation did not affect the antibody response to live bovine RS virus vaccination, perhaps due to the presence of the maternal antibody.
View Full-Text
►

▼

Figures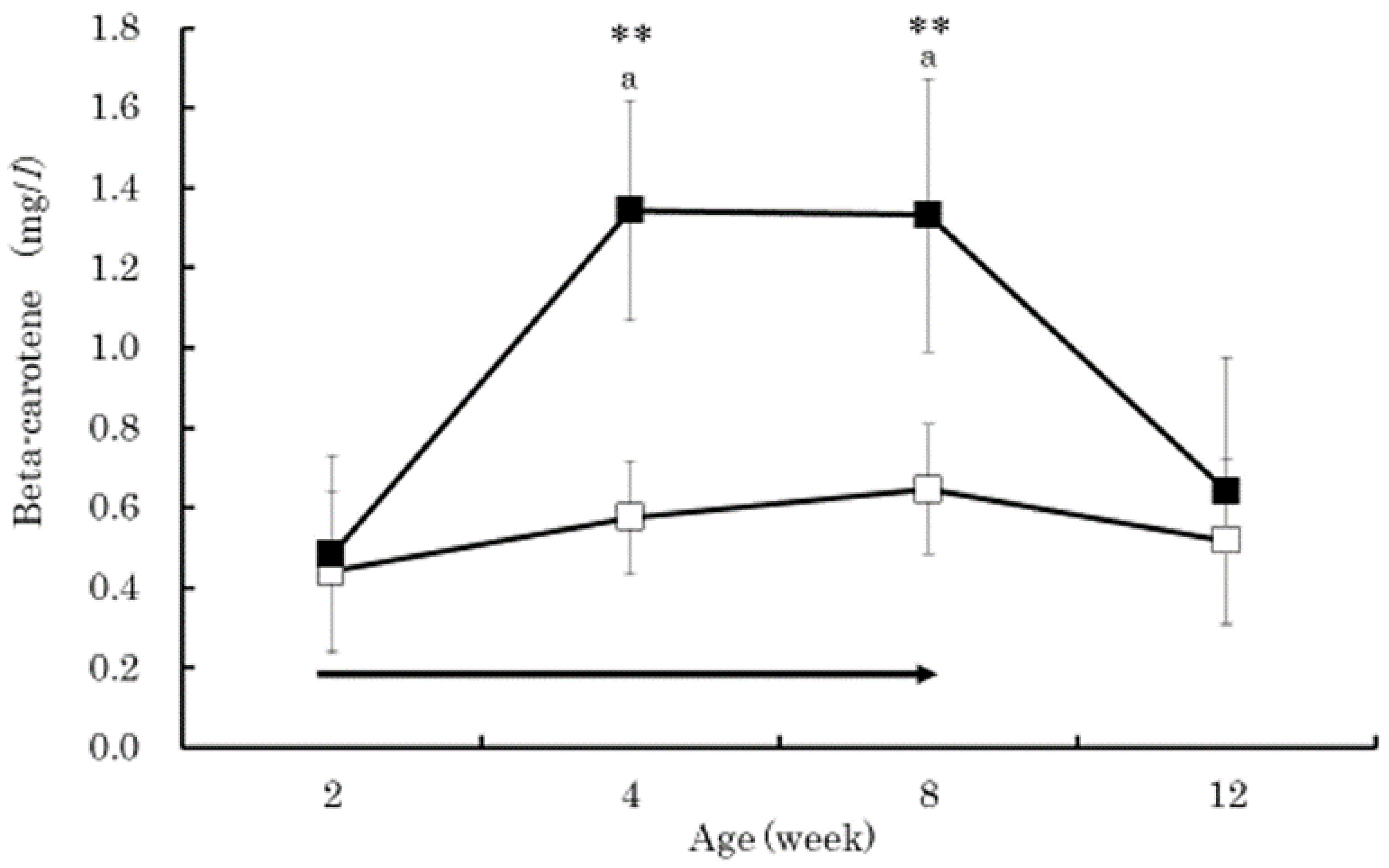 Figure 1
This is an open access article distributed under the
Creative Commons Attribution License
which permits unrestricted use, distribution, and reproduction in any medium, provided the original work is properly cited (CC BY 4.0).

Share & Cite This Article
MDPI and ACS Style
Otomaru, K.; Ogawa, R.; Oishi, S.; Iwamoto, Y.; Hong, H.; Nagai, K.; Hyakutake, K.; Kubota, C.; Kaneshige, T. Effect of Beta-Carotene Supplementation on the Serum Oxidative Stress Biomarker and Antibody Titer against Live Bovine Respiratory Syncytial Virus Vaccination in Japanese Black Calves. Vet. Sci. 2018, 5, 102.
Note that from the first issue of 2016, MDPI journals use article numbers instead of page numbers. See further details here.
Related Articles
Comments
[Return to top]