Methylamine Activates Glucose Uptake in Human Adipocytes Without Overpassing Action of Insulin or Stimulating its Secretion in Pancreatic Islets
1
Institute of Metabolic and Cardiovascular Diseases, INSERM, UMR1048, Team 1, 31432 Toulouse, France
2
I2MC, University of Toulouse, UMR1048, Paul Sabatier University, 31432 Toulouse, France
3
Department of Kinesiology, Faculty of Medicine, Laval University, Québec, QC G1V0A6, Canada
4
Department of Surgery, Faculty of Medicine, Laval University, Québec, QC G1V0A6, Canada
5
Department of Plastic Surgery, CHU Rangueil, 31059 Toulouse, France
6
Laboratory of Neuroendocrinology, Institute of Neurosciences of Castilla y León (INCyL), University of Salamanca, 37007 Salamanca, Spain
7
Laboratory of Neuroendocrinology and Obesity, Institute of Biomedical Research of Salamanca (IBSAL), University of Salamanca, 37007 Salamanca, Spain
8
Department of Physiology and Pharmacology, Faculty of Medicine, University of Salamanca, 37007 Salamanca, Spain
*
Author to whom correspondence should be addressed.
Received: 12 July 2019 / Revised: 2 August 2019 / Accepted: 7 August 2019 / Published: 12 August 2019
Abstract
Background: Methylamine, a natural soluble amine present in foods, is known to be a substrate of primary amine oxidase (PrAO) widely expressed in animal tissues. Methylamine has been reported to activate glucose transport in fat cells and to facilitate glucose disposal in rabbits but the interests and limits of such insulin-mimicking actions have not been further explored. This work aimed to perform a preclinical study of the inter-individual variations of these biological properties to study the putative link between PrAO activity and insulin resistance. Methods: Methylamine was tested on human adipocyte preparations and in rabbit pancreatic islets to determine its influence on glucose uptake and insulin release, respectively. PrAO activity and related responses were determined in adipose tissues obtained from two cohorts of non-obese and obese women. Results: Adipose tissue PrAO activity was negatively correlated with insulin resistance in high-risk obese women. PrAO-dependent activation of glucose uptake was negatively correlated with body mass index and reflected the decrease of insulin responsiveness of human fat cells with increasing obesity. Methylamine exhibited antilipolytic properties in adipocytes but was unable to directly activate insulin secretion in isolated pancreatic islets. Conclusions: PrAO activation by its substrates, e.g., methylamine, increases glucose utilization in human adipocytes in a manner that is linked to insulin responsiveness. Methylamine/PrAO interaction can therefore contribute to adipose tissue enlargement but should be considered as potentially useful for diabetes prevention since it could limit lipotoxicity and facilitate glucose handling, at the expense of favoring healthy fat accumulation.

►

▼

Figures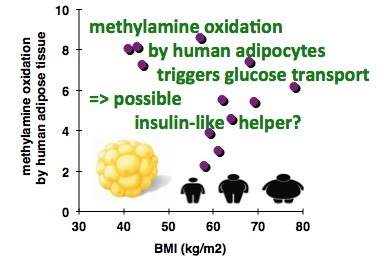 Graphical abstract
This is an open access article distributed under the
Creative Commons Attribution License
which permits unrestricted use, distribution, and reproduction in any medium, provided the original work is properly cited (CC BY 4.0).

Share & Cite This Article
MDPI and ACS Style
Carpéné, C.; Mauriège, P.; Boulet, N.; Biron, S.; Grolleau, J.-L.; Garcia-Barrado, M.J.; Iglesias-Osma, M.C. Methylamine Activates Glucose Uptake in Human Adipocytes Without Overpassing Action of Insulin or Stimulating its Secretion in Pancreatic Islets. Medicines 2019, 6, 89.
Note that from the first issue of 2016, MDPI journals use article numbers instead of page numbers. See further details here.
Related Articles
Comments
[Return to top]