α-Ketoglutaric Acid-Modified Carbonate Apatite Enhances Cellular Uptake and Cytotoxicity of a Raf-Kinase Inhibitor in Breast Cancer Cells through Inhibition of MAPK and PI-3 Kinase Pathways
1
Jeffrey Cheah School of Medicine and Health Sciences, Monash University Malaysia, Jalan Lagoon Selatan, Bandar Sunway, 47500 Subang Jaya, Malaysia
2
Health & Wellbeing Cluster, Global Asia in the 21st Century (GA21) Platform, 47500 Subang Jaya, Malaysia
*
Author to whom correspondence should be addressed.
Received: 13 November 2018 / Revised: 16 December 2018 / Accepted: 18 December 2018 / Published: 3 January 2019
Abstract
AZ628 is a hydrophobic Raf-kinase inhibitor (rapidly accelerated fibrosarcoma) currently in clinical trial of various cancer. The physicochemical properties of hydrophobic drugs that affect the drug-particle interactions and cause aggregation of drugs and particles might be the key aspect to impede effective drug delivery. Retaining smaller particle size is the prerequisite to overcome the opsonization and improve cytotoxicity in the targeted region. Carbonate apatite (CA), an attractive biodegradable vector, has been used to carry both hydrophilic and hydrophobic drugs and release the payloads inside the cells following endocytosis. We incorporated AZ628 into CA and also modified it with α-ketoglutaric acid (α-KA) for reducing particle growth kinetics and increasing total surface area to improve the delivery of AZ628 by enhancing cellular uptake by breast cancer cells. AZ628-loaded nanoparticles of CA and α-KA-modified CA (α-KAMCA) were synthesized and evaluated in MCF-7 and 4T1 cell lines by measuring cytotoxicity and cellular uptake analysis. HPLC (high-performance liquid chromatography) assay was performed to quantify the binding affinity of the nanocarriers towards the drug. Western blot analysis was done to see the activation and expression levels of Akt, MAPK (mitogen-activated protein kinase) pathways and Caspase-3. Zetasizer was used to measure the particle size along with the surface charge. α-KAMCA showed almost 88% encapsulation efficacy for AZ628 with around 21% enhanced cellular uptake of the drug in two different breast cancer cell lines. These findings suggest that α-KAMCA could be a promising therapeutic tool to carry AZ628 for breast cancer treatment.
View Full-Text
►

▼

Figures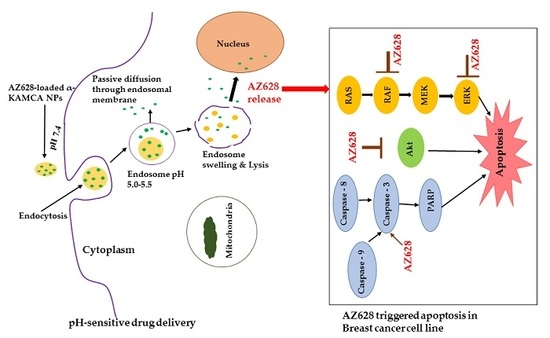 Graphical abstract
This is an open access article distributed under the
Creative Commons Attribution License
which permits unrestricted use, distribution, and reproduction in any medium, provided the original work is properly cited (CC BY 4.0).

Share & Cite This Article
MDPI and ACS Style
Hossain, S.M.; Shetty, J.; Tha, K.K.; Chowdhury, E.H. α-Ketoglutaric Acid-Modified Carbonate Apatite Enhances Cellular Uptake and Cytotoxicity of a Raf-Kinase Inhibitor in Breast Cancer Cells through Inhibition of MAPK and PI-3 Kinase Pathways. Biomedicines 2019, 7, 4.
Note that from the first issue of 2016, MDPI journals use article numbers instead of page numbers. See further details here.
Related Articles
Comments
[Return to top]