TNF-α and IFN-γ Together Up-Regulates Par-4 Expression and Induce Apoptosis in Human Neuroblastomas
1
National Centre for Cell Science, Savitribai Phule Pune University, Ganeshkhind, Pune 411007, India
2
Donnelly Centre, University of Toronto, Toronto, ON M5S 3E1, Canada
3
Lunenfeld-Tanenbaum Research Institute, Mt. Sinai Hospital, Toronto, ON M5G 1X5, Canada
4
Modern College, Ganeshkhind, Pune 411016, India
5
Rasayani Biologics Pvt Ltd, 48/7, Mhalunge—Nande Road, Mhalunge, Pune 411045, India
†
Current address: Krefting Research Centre, University of Gothenburg, Box-424, SE-405 30 Gothenburg, Sweden.
‡
These authors contributed equally to this work.
*
Author to whom correspondence should be addressed.
Received: 22 November 2017 / Revised: 15 December 2017 / Accepted: 19 December 2017 / Published: 26 December 2017
Abstract
The objective of this study was to examine the combined effect of Interferon-gamma (IFN-γ) and Tumor Necrosis factor-alpha (TNF-α) on cytotoxicity and expression of prostate apoptosis response-4 (Par-4) and Par-4 interacting proteins B-cell lymphoma (Bcl-2), nuclear factor kappa-light-chain-enhancer of activated B cells/p65 subunit (NF-κB/p65), Ak mouse strain thymoma (Akt) in human neuroblastoma (NB) cells. Materials and methods included human neuroblastoma cell lines-SK-N-MC, SK-N-SH, and SH-SY5Y, which were treated with IFN-γ and TNF-α individually, or in combination, and were assessed for viability by tetrazolium (MTT) assay. Apoptosis was monitored by hypodiploid population (by flow cytometry), DNA fragmentation, Poly (ADP-ribose) polymerase (PARP) cleavage, and caspase-8 activity. Transcript level of Par-4 was measured by RT-PCR. Protein levels of Par-4 and suppressor of cytokine signaling 3 (SOCS-3) were assessed by immunoblotting. Cellular localization of Par-4 and p65 was examined by immunofluorescence. Unbiased transcript analysis for IFN-γ, TNF-α, and Par-4 were analyzed from three independent clinical datasets from neuroblastoma patients. In terms of results, SK-N-MC cells treated with a combination of, but not individually with, IFN-γ and TNF-α induced apoptosis characterized by hypodiploidy, DNA fragmentation, PARP cleavage, and increased caspase-8 activity. Apoptosis was associated with up-regulation of Par-4 mRNA and protein expression. Immunofluorescence studies revealed that Par-4 was localized exclusively in cytoplasm in SK-N-MC cells cultured for 24 h. but showed nuclear localization at 48 h. Treatment with IFN-γ and TNF-α together enhanced the intensity of nuclear Par-4. In gene expression, data from human neuroblastoma patients, levels of IFN-γ, and TNF-α have strong synergy with Par-4 expression and provide good survival advantage. The findings also demonstrated that apoptosis was associated with reduced level of pro-survival proteins–Bcl-2 and Akt and NF-κB/p65. Furthermore, the apoptotic effect induced by IFN-γ-induced Signal Transducer and Activator of Transcription-1(STAT-1), and could be due to down-regulation of suppressor of cytokine signaling-3 (SOCS3). The study concludes that a combinatorial approach using IFN-γ and TNF-α can be explored to maximize the effect in chemotherapy in neuroblastoma, and implies a role for Par-4 in the process.
View Full-Text
►

▼

Figures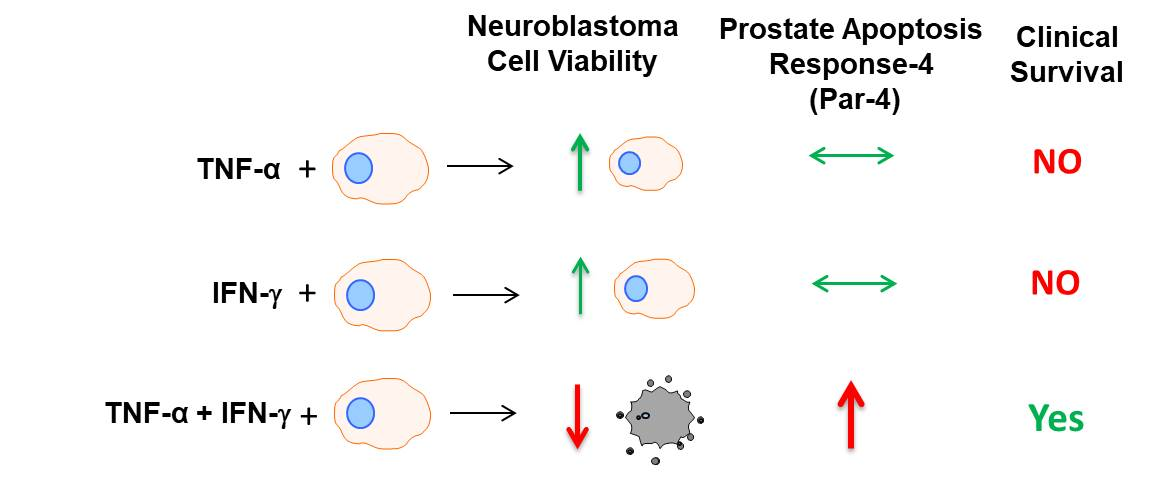 Graphical abstract
This is an open access article distributed under the
Creative Commons Attribution License
which permits unrestricted use, distribution, and reproduction in any medium, provided the original work is properly cited (CC BY 4.0).

Share & Cite This Article
MDPI and ACS Style
Shelke, G.V.; Jagtap, J.C.; Kim, D.-K.; Shah, R.D.; Das, G.; Shivayogi, M.; Pujari, R.; Shastry, P. TNF-α and IFN-γ Together Up-Regulates Par-4 Expression and Induce Apoptosis in Human Neuroblastomas. Biomedicines 2018, 6, 4.
Note that from the first issue of 2016, MDPI journals use article numbers instead of page numbers. See further details here.
Related Articles
Comments
[Return to top]