A Two-Temperature Open-Source CFD Model for Hypersonic Reacting Flows, Part Two: Multi-Dimensional Analysis†
1
James Weir Fluids Laboratory, University of Strathclyde, Glasgow G1 1XJ, UK
2
Centre for Future Air-Space Transportation Technology, University of Strathclyde, Glasgow G1 1XJ, UK
*
Author to whom correspondence should be addressed.
‡
These authors contributed equally to this work.
†
This paper is an extended version of our paper published in Casseau, V.; Scanlon, T.J.; John, B.; Emerson, D.R.; Brown, R.E. Hypersonic simulations using open-source CFD and DSMC solvers. In DSMC and Related Simulations, Proceedings of the 30th International Symposium on Rarefied Gas Dynamics, Victoria, BC, Canada, 10–15 July 2016; Ketsdever, A.; Struchtrup, H., Eds.; AIP Publishing, Melville, NY, USA; Volume 1786, 050006.[...]
Academic Editors: Konstantinos Kontis and Mário M. G. Costa
Received: 30 September 2016 / Revised: 25 November 2016 / Accepted: 8 December 2016 / Published: 14 December 2016
Abstract
hy2Foam
is a newly-coded open-source two-temperature computational fluid dynamics (CFD) solver that has previously been validated for zero-dimensional test cases. It aims at (1) giving open-source access to a state-of-the-art hypersonic CFD solver to students and researchers; and (2) providing a foundation for a future hybrid CFD-DSMC (direct simulation Monte Carlo) code within the OpenFOAM framework. This paper focuses on the multi-dimensional verification of
hy2Foam
and firstly describes the different models implemented. In conjunction with employing the coupled vibration-dissociation-vibration (CVDV) chemistry–vibration model, novel use is made of the quantum-kinetic (QK) rates in a CFD solver.
hy2Foam
has been shown to produce results in good agreement with previously published data for a Mach 11 nitrogen flow over a blunted cone and with the
dsmcFoam
code for a Mach 20 cylinder flow for a binary reacting mixture. This latter case scenario provides a useful basis for other codes to compare against.
View Full-Text
►

▼

Figures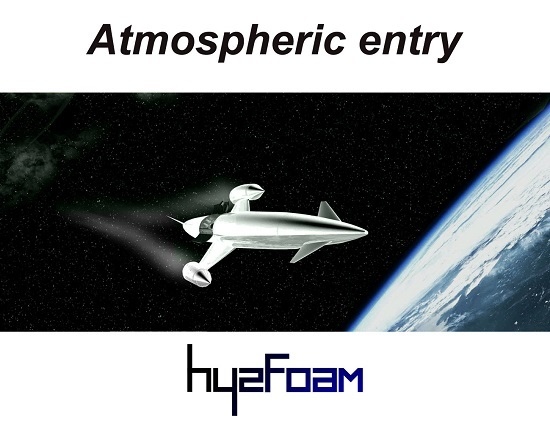 Graphical abstract
This is an open access article distributed under the
Creative Commons Attribution License
which permits unrestricted use, distribution, and reproduction in any medium, provided the original work is properly cited (CC BY 4.0).

Share & Cite This Article
MDPI and ACS Style
Casseau, V.; Espinoza, D.E.R.; Scanlon, T.J.; Brown, R.E. A Two-Temperature Open-Source CFD Model for Hypersonic Reacting Flows, Part Two: Multi-Dimensional Analysis. Aerospace 2016, 3, 45.
Note that from the first issue of 2016, MDPI journals use article numbers instead of page numbers. See further details here.
Related Articles
Comments
[Return to top]