Inhibition of NO Biosynthetic Activities during Rehydration of
Ramalina farinacea

Lichen Thalli Provokes Increases in Lipid Peroxidation

1

Department of Biology and Geology, Physics and Inorganic Chemistry, ESCET—Campus de Móstoles, C/Tulipán s/n, E-28933 Móstoles (Madrid), Spain

2

Universitat de València, Botánica & ICBIBE—Jardí Botànic, Fac. CC. Biológicas, C/Dr. Moliner 50, 46100 Burjassot, Valencia, Spain

3

U. Politècnica de València, Dpto. Ecosistemas Agroforestales, Camino de Vera s/n, 46020 Valencia, Spain

*

Author to whom correspondence should be addressed.

Received: 31 March 2019 / Revised: 14 June 2019 / Accepted: 17 June 2019 / Published: 26 June 2019
Abstract
Lichens are poikilohydrous symbiotic associations between a fungus, photosynthetic partners, and bacteria. They are tolerant to repeated desiccation/rehydration cycles and adapted to anhydrobiosis. Nitric oxide (NO) is a keystone for stress tolerance of lichens; during lichen rehydration, NO limits free radicals and lipid peroxidation but no data on the mechanisms of its synthesis exist. The aim of this work is to characterize the synthesis of NO in the lichen
Ramalina farinacea
using inhibitors of nitrate reductase (NR) and nitric oxide synthase (NOS), tungstate, and NG-nitro-L-arginine methyl ester (L-NAME), respectively. Tungstate suppressed the NO level in the lichen and caused an increase in malondialdehyde during rehydration in the hyphae of cortex and in phycobionts, suggesting that a plant-like NR is involved in the NO production. Specific activity of NR in
R. farinacea
was 91 μU/mg protein, a level comparable to those in the bryophyte
Physcomitrella patens
and
Arabidopsis thaliana
. L-NAME treatment did not suppress the NO level in the lichens. On the other hand, NADPH-diaphorase activity cytochemistry showed a possible presence of a NOS-like activity in the microalgae where it is associated with cytoplasmatic vesicles. These data provide initial evidence that NO synthesis in
R. farinacea
involves NR.
View Full-Text
►

▼

Figures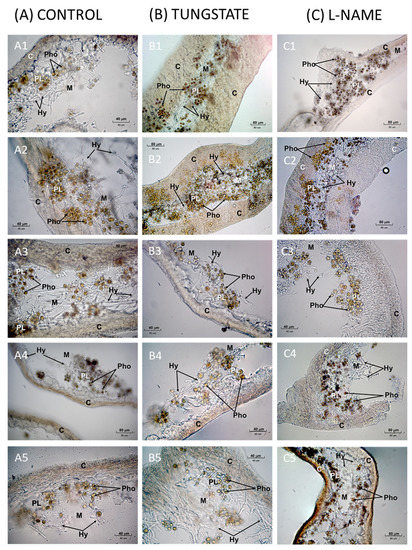 Figure 1
This is an open access article distributed under the
Creative Commons Attribution License
which permits unrestricted use, distribution, and reproduction in any medium, provided the original work is properly cited (CC BY 4.0).

Share & Cite This Article
MDPI and ACS Style
Expósito, J.R.; Martín San Román, S.; Barreno, E.; Reig-Armiñana, J.; García-Breijo, F.J.; Catalá, M. Inhibition of NO Biosynthetic Activities during Rehydration of Ramalina farinacea Lichen Thalli Provokes Increases in Lipid Peroxidation. Plants 2019, 8, 189.
Note that from the first issue of 2016, MDPI journals use article numbers instead of page numbers. See further details here.
Related Articles
Comments
[Return to top]