Diachronic UAV Photogrammetry of a Sandy Beach in Brittany (France) for a Long-Term Coastal Observatory
1
IUEM—UMS 3113, Université de Bretagne Occidentale, IUEM, CNRS, Technopôle Brest-Iroise, Rue Dumont d'Urville, F-29280 Plouzané, France
2
Laboratoire Géosciences Océans-UMR 6538, Université de Bretagne Occidentale, IUEM, CNRS, Technopôle Brest-Iroise, Rue Dumont d'Urville, F-29280 Plouzané, France
3
Cerema, Direction Eau Mer et Fleuves, F-60280 Margny-lès-Compiègne, France
4
Laboratoire de Géologie de Lyon: Terre, Planètes, Environnement—UMR 5276, Université de Lyon, Université Claude Bernard Lyon 1, ENS Lyon, CNRS, F-69622 Villeurbanne, France
5
LETG—UMR 6554, Université de Bretagne Occidentale, IUEM, CNRS, Technopôle Brest-Iroise, rue Dumont d'Urville, F-29280 Plouzané, France
6
OSU de La Réunion, Université de La Réunion, CS 92003, F-97744 Saint-Denis, France
*
Author to whom correspondence should be addressed.
Received: 7 May 2019 / Revised: 28 May 2019 / Accepted: 5 June 2019 / Published: 7 June 2019
Abstract
In the dual context of coastal hazard intensification and the growing number of stakes exposed to these hazards, coastal observatories are in demand to provide a structured framework dedicated to long-term monitoring. This article describes the drone-based photogrammetry monitoring performed since 2006 on Porsmilin Beach (Brittany, France) in the framework of the DYNALIT (Littoral and Coastline Dynamics) observatory, focusing on data quality and the consistency of long-term time series under the influence of multiple technological evolutions: Unmanned Aerial Vehicles (UAV) platforms with the arrival of electric multirotor drones, processing tools with the development of structure-from-motion (SfM) photogrammetry, and operational modes of survey. A study case is presented to show the potential of UAV monitoring to study storm impacts and beach resilience. The relevance of high-accuracy monitoring is also highlighted. With the current method, an accuracy of 3 cm can be achieved on the digital elevation model (DEM) and the orthophotograph. The question of the representativity and frequency of DEM time points is raised.
View Full-Text
►

▼

Figures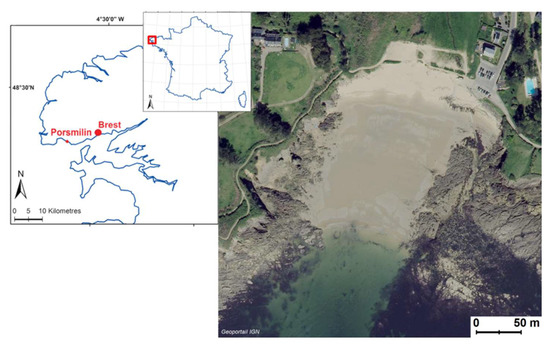 Figure 1
This is an open access article distributed under the
Creative Commons Attribution License
which permits unrestricted use, distribution, and reproduction in any medium, provided the original work is properly cited (CC BY 4.0).

Share & Cite This Article
MDPI and ACS Style
Jaud, M.; Delacourt, C.; Le Dantec, N.; Allemand, P.; Ammann, J.; Grandjean, P.; Nouaille, H.; Prunier, C.; Cuq, V.; Augereau, E.; Cocquempot, L.; Floc'h, F. Diachronic UAV Photogrammetry of a Sandy Beach in Brittany (France) for a Long-Term Coastal Observatory. ISPRS Int. J. Geo-Inf. 2019, 8, 267.
Note that from the first issue of 2016, MDPI journals use article numbers instead of page numbers. See further details here.
Related Articles
Comments
[Return to top]