Genome-Wide Identification and Characterization of SQUAMOSA—Promoter-Binding Protein (SBP) Genes Involved in the Flowering Development of
Citrus Clementina
1
Key Laboratory of Horticultural Plant Biology (Ministry of Education), College of Horticulture and Forestry Science, Huazhong Agricultural University, Wuhan 430070, China
2
State Key Laboratory of Tea Plant Biology and Utilization, Anhui Agricultural University, Hefei 230000, China
*
Author to whom correspondence should be addressed.
†
These authors contributed equally to this work.
Received: 25 December 2018 / Revised: 7 February 2019 / Accepted: 7 February 2019 / Published: 14 February 2019
Abstract
SQUAMOSA-promoter binding protein (SBP)-box genes encode a family of plant-specific transcription factors that play vital roles in plant growth and development. In this study, 15 SBP-box genes were identified and isolated from
Citrus clementina
(
CclSBPs
), where 10 of these genes were predicted to be putative targets of
Citrus clementina
microRNA156 (CclmiR156). The 15
CclSBP
genes could be classified into six groups based on phylogenetic analysis, diverse intron–exon structure, and motif prediction, similar to the
SQUAMOSA promoter binding protein-like (SPL)
gene family of
Populus trichocarpa
and
Arabidopsis thaliana
. Furthermore,
CclSBPs
classified into a group/subgroup have similar gene structures and conserved motifs, implying their functional redundancy. Tissue-specific expression analysis of
CclSBPs
demonstrated their diversified expression patterns. To further explore the potential role of
CclSBPs
during floral inductive water deficits, the dynamic changes of the 15
CclSBPs
were investigated during floral inductive water deficits, and the results showed that some
CclSBPs
were associated with floral induction. Among these genes,
CclSBP6
was not homologous to the
Arabidopsis
SBP-box gene family, and
CclSBP7
was regulated by being alternatively spliced. Therefore,
CclSBP6
and
CclSBP7
were genetically transformed in
Arabidopsis
. Overexpression of the two genes changed the flowering time of
Arabidopsis
.
View Full-Text
►

▼

Figures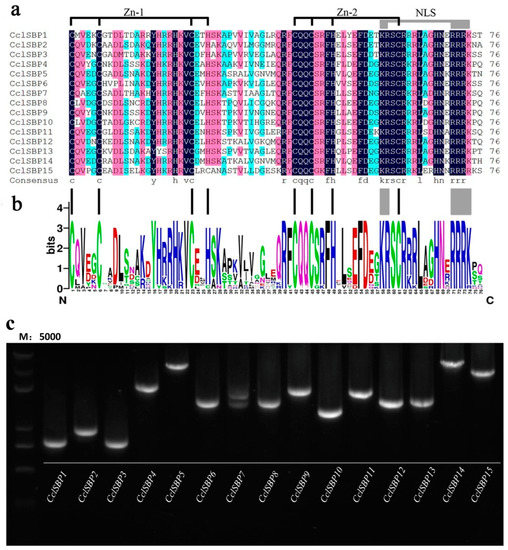 Figure 1
This is an open access article distributed under the
Creative Commons Attribution License
which permits unrestricted use, distribution, and reproduction in any medium, provided the original work is properly cited (CC BY 4.0).
Supplementary materials
Supplementary File 1:

RAR-Document (RAR, 511 KB)

Supplementary File 2:

ZIP-Document (ZIP, 511 KB)

Externally hosted supplementary file 1
Link: http://Figure S1, Table S1 and Table S2
Description: Supplementary Materials: Figure S1. Functional diversity analysis of SBP-box genes in other plants, and phylogenetic relationship with citrus SBP-box genes. Phylogeny of SBP-box genes based on an alignment of the SBP-box domain, only genes for which functional data were available selected from other plant species. Green circles, presence; white circles, absence; black circles, unknown. Table S1 Gene-specific primers used in this study. Table S2. Cis-regulatory elements predicted in promoter region of CclSBPs.

Share & Cite This Article
MDPI and ACS Style
Zeng, R.-F.; Zhou, J.-J.; Liu, S.-R.; Gan, Z.-M.; Zhang, J.-Z.; Hu, C.-G. Genome-Wide Identification and Characterization of SQUAMOSA—Promoter-Binding Protein (SBP) Genes Involved in the Flowering Development of Citrus Clementina. Biomolecules 2019, 9, 66.
Note that from the first issue of 2016, MDPI journals use article numbers instead of page numbers. See further details here.
Related Articles
Comments
[Return to top]