Characterization of Receptor Binding Profiles of Influenza A Viruses Using An Ellipsometry-Based Label-Free Glycan Microarray Assay Platform
1
Key Laboratory of Micro and Nano Photonic Structures (Ministry of Education), Department of Optical Science and Engineering, Shanghai Engineering Research Center of Ultra-Precision Optical Manufacturing, Fudan University, 220 Handan Road, Shanghai 200433, China
2
Department of Physics, University of California, Davis, CA 95616, USA
3
Department of Physics, Fu-Jen Catholic University, New Taipei City 24205, Taiwan
4
Department of Chemistry, University of California, Davis, CA 95616, USA
5
Center for Comparative Medicine, University of California, Davis, CA 95616, USA
*
Author to whom correspondence should be addressed.
†
Current address: Institute for Glycomics, Gold Coast Campus, Griffith University, Queensland 4222, Australia.
Academic Editor: Hans Vliegenthart
Received: 26 May 2015 / Revised: 9 June 2015 / Accepted: 6 July 2015 / Published: 16 July 2015
Abstract
A key step leading to influenza viral infection is the highly specific binding of a viral spike protein, hemagglutinin (HA), with an extracellular glycan receptor of a host cell. Detailed and timely characterization of virus-receptor binding profiles may be used to evaluate and track the pandemic potential of an influenza virus strain. We demonstrate a label-free glycan microarray assay platform for acquiring influenza virus binding profiles against a wide variety of glycan receptors. By immobilizing biotinylated receptors on a streptavidin-functionalized solid surface, we measured binding curves of five influenza A virus strains with 24 glycans of diverse structures and used the apparent equilibrium dissociation constants (avidity constants, 10–100 pM) as characterizing parameters of viral receptor profiles. Furthermore by measuring binding kinetic constants of solution-phase glycans to immobilized viruses, we confirmed that the glycan-HA affinity constant is in the range of 10 mM and the reaction is enthalpy-driven.
View Full-Text
►

▼

Figures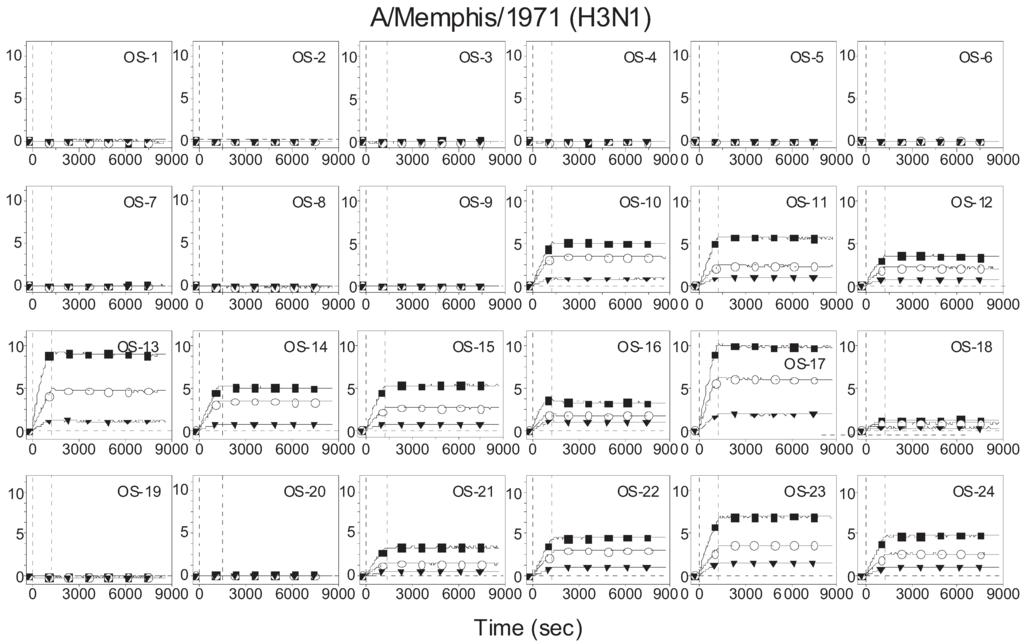 Figure 1
This is an open access article distributed under the
Creative Commons Attribution License
which permits unrestricted use, distribution, and reproduction in any medium, provided the original work is properly cited (CC BY 4.0).

Share & Cite This Article
MDPI and ACS Style
Fei, Y.; Sun, Y.-S.; Li, Y.; Yu, H.; Lau, K.; Landry, J.P.; Luo, Z.; Baumgarth, N.; Chen, X.; Zhu, X. Characterization of Receptor Binding Profiles of Influenza A Viruses Using An Ellipsometry-Based Label-Free Glycan Microarray Assay Platform. Biomolecules 2015, 5, 1480-1498.
Related Articles
Comments
[Return to top]