Is Cell Death Primary or Secondary in the Pathophysiology of Idiopathic Parkinson's Disease?
Prion and Dementia Research Unit, Department of Neuropathology, University Medical Center Göttingen, Georg-August University Göttingen, Robert-Koch-Str. 40, Göttingen 37075, Germany
Academic Editor: Stephan N. Witt
Received: 24 March 2015 / Revised: 21 May 2015 / Accepted: 1 July 2015 / Published: 16 July 2015
Abstract
Currently, the pathophysiology of idiopathic Parkinson's disease is explained by a loss of mainly dopaminergic nerve cells that causes a neurotransmitter deficiency. In the final stage of the disease, there is a marked loss of neurons in the substantia nigra. In addition, Lewy bodies can be found in some of the remaining neurons, which serve as the pathological hallmark of the disease. These Lewy bodies are composed mainly of aggregated α-synuclein, a physiological presynaptic protein. Lewy bodies were thought to be the pathophysiologically relevant form of α-synuclein because their appearance coincided with neuron loss in the substantia nigra. In consequence, neuron loss was thought to be the primary step in the neurodegeneration in Parkinson's disease. On the other hand, the clinical syndrome suggests a synaptic disorder. If α-synuclein aggregation was causally linked to the pathophysiology of disease, α-synuclein pathology should be found at the synapse. As recently demonstrated, one to two orders of magnitude more α-synuclein aggregates are present in presynaptic terminals than in Lewy bodies or Lewy neurites. Degeneration of dendritic spines associated with synaptic α-synuclein aggregates has been shown to occur in human disease. In experiments, using transgenic mice or cell cultures, mild (two- to three-fold) overexpression of α-synuclein caused an altered vesicle turnover and led to a reduction in neurotransmitter release. Different approaches linked these alterations to presynaptic aggregation of α-synuclein. These findings may fundamentally change the pathophysiological concept of Parkinson's disease: not nerve cell loss, but the synaptic dysfunction of still existing nerve cells should become the focus of attention. From recent findings, it is quite evident that the death of dopaminergic neurons is a secondary event in the pathophysiology of Parkinson's disease.
View Full-Text
►

▼

Figures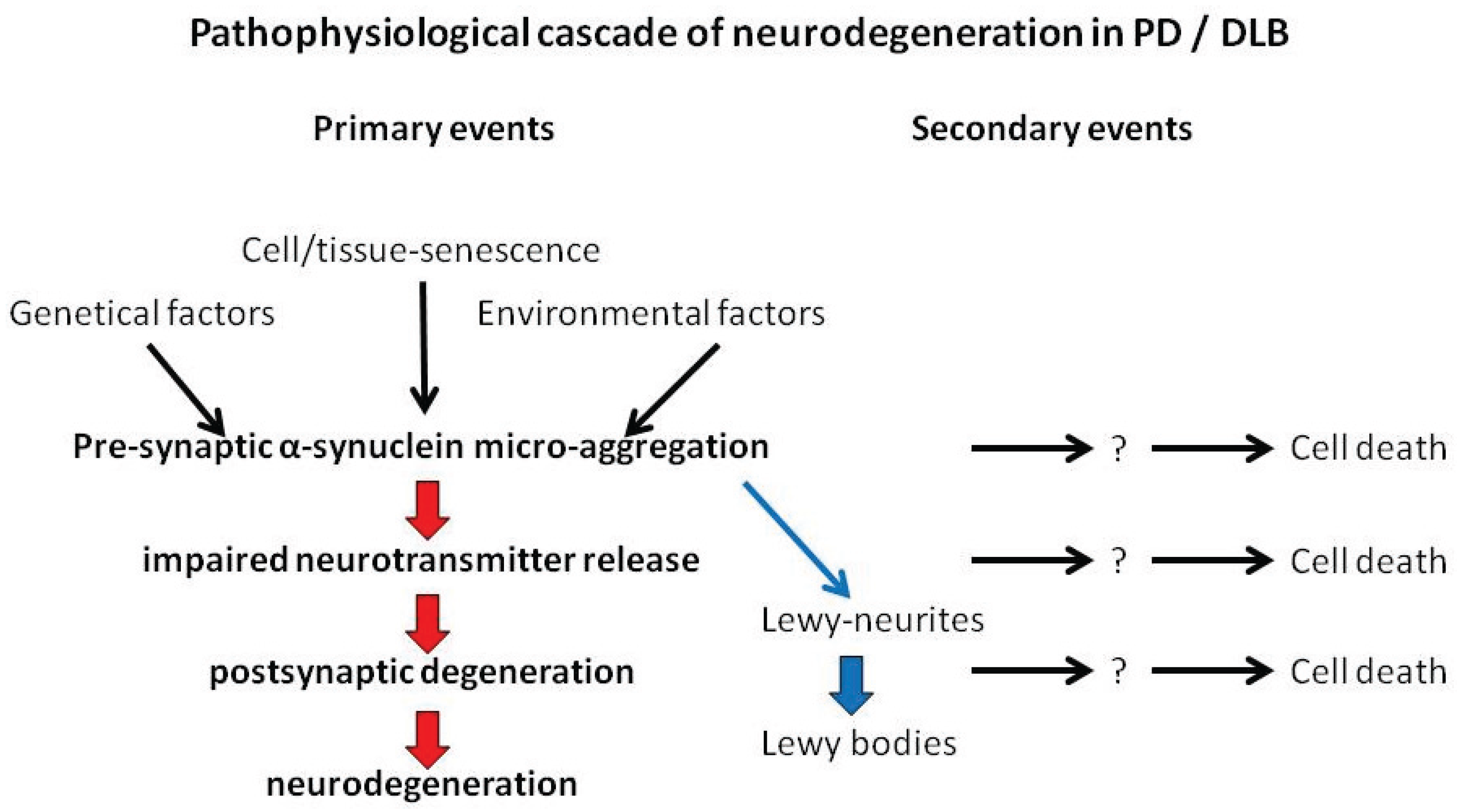 Figure 1
This is an open access article distributed under the
Creative Commons Attribution License
which permits unrestricted use, distribution, and reproduction in any medium, provided the original work is properly cited (CC BY 4.0).

Share & Cite This Article
MDPI and ACS Style
Schulz-Schaeffer, W.J. Is Cell Death Primary or Secondary in the Pathophysiology of Idiopathic Parkinson's Disease? Biomolecules 2015, 5, 1467-1479.
Related Articles
Comments
[Return to top]