Estrogenic Compounds or Adiponectin Inhibit Cyclic AMP Response to Human Luteinizing Hormone in Mouse Leydig Tumor Cells
1
Physiologie de la Reproduction et des Comportements, Institut National de la Recherche Agronomique (INRA), Centre National de la Recherche Scientifique (CNRS), 37380 Nouzilly, France
2
Quy Nhon University, Quy Nhơn, Vietnam
*
Author to whom correspondence should be addressed.
Received: 23 April 2019 / Revised: 3 June 2019 / Accepted: 10 June 2019 / Published: 11 June 2019
Abstract
Mouse Leydig Tumor cells (mLTC), transiently expressing cAMP-dependent luciferase, were used to study the influence of sexual steroids and of adiponectin (ADPN) on the cAMP response to luteinizing hormones (LH). While testosterone and progesterone had no significant effect, several molecules with estrogenic activity (17β-estradiol, ethynylestradiol, and bisphenol A) provoked a decrease in intracellular cyclic AMP accumulation under 0.7 nM human LH stimulation. Adiponectin exhibited a bimodal dose-effect on LH response: synergistic between 2–125 ng/mL and inhibitory between 0.5–5 µg/mL. In brief, our data indicate that estrogens and ADPN separately exert rapid (<1 h) inhibitory and/or synergistic effects on cAMP response to LH in mLTC-1 cells. As the inhibitory effect of each estrogenic molecule was observed after only 1-h preincubation, it might be mediated through the G protein-coupled estrogen receptor (GPER) membrane receptor, but this remains to be demonstrated. The synergistic effect with low concentrations of ADPN with human Luteinizing Hormone (hLH) was observed with both fresh and frozen/thawed ADPN. In contrast, the inhibitory effect with high concentrations of ADPN was lost with frozen/thawed ADPN, suggesting deterioration of its polymeric structure.
View Full-Text
►

▼

Figures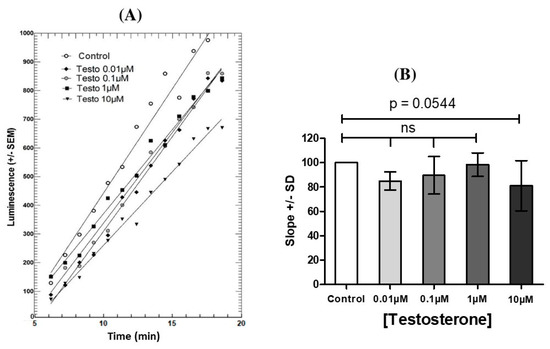 Figure 1
This is an open access article distributed under the
Creative Commons Attribution License
which permits unrestricted use, distribution, and reproduction in any medium, provided the original work is properly cited (CC BY 4.0).

Share & Cite This Article
MDPI and ACS Style
Nguyen, T.M.D.; Klett, D.; Combarnous, Y. Estrogenic Compounds or Adiponectin Inhibit Cyclic AMP Response to Human Luteinizing Hormone in Mouse Leydig Tumor Cells. Biology 2019, 8, 45.
Note that from the first issue of 2016, MDPI journals use article numbers instead of page numbers. See further details here.
Related Articles
Comments
[Return to top]