Family A and B DNA Polymerases in Cancer: Opportunities for Therapeutic Interventions
1
Department of Biochemistry, University of Missouri, Columbia, MO 65211, USA
2
The Christopher S. Bond Life Science Center, University of Missouri, Columbia, MO 65211, USA
3
Molecular Microbiology and Immunology, University of Missouri, Columbia, MO 65211, USA
4
Department of Microbiology, Biochemistry and Molecular Genetics 225 Warren Street, NJ 07103, USA
5
Department of Laboratory Medicine, Karolinska Institutet, Stockholm 141 86, Sweden
*
Author to whom correspondence should be addressed.
Received: 13 November 2017 / Revised: 14 December 2017 / Accepted: 29 December 2017 / Published: 2 January 2018
Abstract
DNA polymerases are essential for genome replication, DNA repair and translesion DNA synthesis (TLS). Broadly, these enzymes belong to two groups: replicative and non-replicative DNA polymerases. A considerable body of data suggests that both groups of DNA polymerases are associated with cancer. Many mutations in cancer cells are either the result of error-prone DNA synthesis by non-replicative polymerases, or the inability of replicative DNA polymerases to proofread mismatched nucleotides due to mutations in 3′-5′ exonuclease activity. Moreover, non-replicative, TLS-capable DNA polymerases can negatively impact cancer treatment by synthesizing DNA past lesions generated from treatments such as cisplatin, oxaliplatin, etoposide, bleomycin, and radiotherapy. Hence, the inhibition of DNA polymerases in tumor cells has the potential to enhance treatment outcomes. Here, we review the association of DNA polymerases in cancer from the A and B families, which participate in lesion bypass, and conduct gene replication. We also discuss possible therapeutic interventions that could be used to maneuver the role of these enzymes in tumorigenesis.
View Full-Text
►

▼

Figures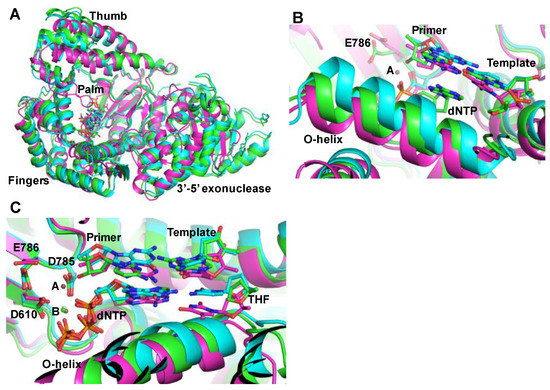 Figure 1
This is an open access article distributed under the
Creative Commons Attribution License
which permits unrestricted use, distribution, and reproduction in any medium, provided the original work is properly cited (CC BY 4.0).

Share & Cite This Article
MDPI and ACS Style
Shanbhag, V.; Sachdev, S.; Flores, J.A.; Modak, M.J.; Singh, K. Family A and B DNA Polymerases in Cancer: Opportunities for Therapeutic Interventions. Biology 2018, 7, 5.
Note that from the first issue of 2016, MDPI journals use article numbers instead of page numbers. See further details here.
Related Articles
Comments
[Return to top]