Combustion Synthesis during Flame Spraying ("CAFSY") for the Production of Catalysts on Substrates
Institute of Nanoscience and Nanotechnology, National Center for Scientific Research"Demokritos", Aghia Paraskevi, Athens15310, Greece
*
Author to whom correspondence should be addressed.
Academic Editor: Eric Loth
Received: 7 November 2016 / Revised: 22 December 2016 / Accepted: 13 January 2017 / Published: 20 January 2017
Abstract
Combustion-assisted flame spraying ("CAFSY") has been used to produce catalytically active nickel aluminide coatings on ceramic substrates. Their catalytic activity was studied in CO
2
(dry) reforming of methane, which is particularly significant for environmental protection as well as production of synthesis gas (CO + H
2
). By varying the CAFSY processing parameters, it is possible to obtain a range of Ni–Al alloys with various ratios of catalytically active phases on the substrate. The influence of the number of coating layers and the type of substrate on the final catalyst composition and on the catalytic activity of the CAFSY coatings was studied and is presented here. The morphology and microstructure of the composite coatings were determined by scanning electron microscopy (SEM) with energy-dispersive X-ray spectroscopy (EDX) elemental analysis, X-ray diffraction (XRD), and Brunauer–Emmett–Teller (BET) specific area analysis. Catalytic tests for dry reforming of methane were carried out using crushed pellets from the coatings at temperatures of 750–900 °C, and gas chromatography showed that methane conversion approached 88% whereas that of carbon dioxide reached 100%. The H
2
/CO ratio in the synthesis gas produced by the reaction varied from about 0.7 to over 1.2, depending on the catalyst and substrate type and testing temperature.
View Full-Text
►

▼

Figures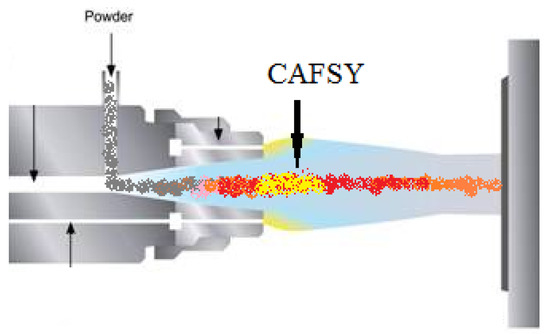 Figure 1
This is an open access article distributed under the
Creative Commons Attribution License
which permits unrestricted use, distribution, and reproduction in any medium, provided the original work is properly cited (CC BY 4.0).

Share & Cite This Article
MDPI and ACS Style
Xanthopoulou, G.; Marinou, A.; Karanasios, K.; Vekinis, G. Combustion Synthesis during Flame Spraying ("CAFSY") for the Production of Catalysts on Substrates. Coatings 2017, 7, 14.
Note that from the first issue of 2016, MDPI journals use article numbers instead of page numbers. See further details here.
Related Articles
Comments
[Return to top]