A Novel Route to Manufacture 2D Layer MoS2 and g-C3N4 by Atmospheric Plasma with Enhanced Visible-Light-Driven Photocatalysis
National Engineering Research Center of Industry Crystallization Technology, School of Chemical Engineering and Technology, Tianjin University, Tianjin 300072, China
*
Author to whom correspondence should be addressed.
Received: 12 July 2019 / Revised: 29 July 2019 / Accepted: 6 August 2019 / Published: 8 August 2019
Abstract
An atmospheric plasma treatment strategy was developed to prepare two-dimensional (2D) molybdenum disulfide (MoS
2
) and graphitic carbon nitride (g-C
3
N
4
) nanosheets from (NH
4
)
2
MoS
4
and bulk g-C
3
N
4
, respectively. The moderate temperature of plasma is beneficial for exfoliating bulk materials to thinner nanosheets. The thicknesses of as-prepared MoS
2
and g-C
3
N
4
nanosheets are 2–3 nm and 1.2 nm, respectively. They exhibited excellent photocatalytic activity on account of the nanosheet structure, larger surface area, more flexible photophysical properties, and longer charge carrier average lifetime. Under visible light irradiation, the hydrogen production rates of MoS
2
and g-C
3
N
4
by plasma were 3.3 and 1.5 times higher than the corresponding bulk materials, respectively. And g-C
3
N
4
by plasma exhibited 2.5 and 1.3 times degradation rates on bulk that for methyl orange and rhodamine B, respectively. The mechanism of plasma preparation was proposed on account of microstructure characterization and online mass spectroscopy, which indicated that gas etching, gas expansion, and the repulsive force of electron play the key roles in the plasma exfoliation. Plasma as an environmentally benign approach provides a general platform for fabricating ultrathin nanosheet materials with prospective applications as photocatalysts for pollutant degradation and water splitting.
View Full-Text
►

▼

Figures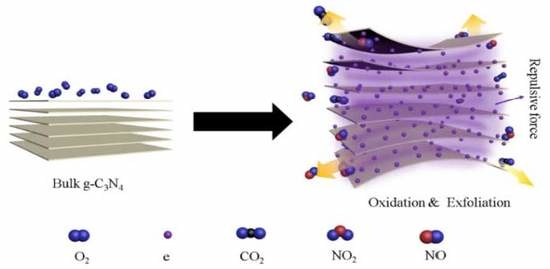 Graphical abstract
This is an open access article distributed under the
Creative Commons Attribution License
which permits unrestricted use, distribution, and reproduction in any medium, provided the original work is properly cited (CC BY 4.0).

Share & Cite This Article
MDPI and ACS Style
Zhang, B.; Wang, Z.; Peng, X.; Wang, Z.; Zhou, L.; Yin, Q. A Novel Route to Manufacture 2D Layer MoS2 and g-C3N4 by Atmospheric Plasma with Enhanced Visible-Light-Driven Photocatalysis. Nanomaterials 2019, 9, 1139.
Note that from the first issue of 2016, MDPI journals use article numbers instead of page numbers. See further details here.
Related Articles
Comments
[Return to top]