Composition―Nanostructure Steered Performance Predictions in Steel Wires
1
Department of Chemical Science and Technologies, Università degli Studi di Roma Tor Vergata, 00133 Roma, Italy
2
Centro NAST, Università degli Studi di Roma Tor Vergata, 00133 Roma, Italy
3
Materials Science Research Institute, Faculty of Dentistry, Semmelweis University, 1088 Budapest, Hungary
4
CNR ICMATE, Institute of Condensed Matter Chemistry and Technologies for Energy, 23900 Lecco, Italy
5
Istituto di Struttura della Materia (ISM-CNR), 00133 Roma, Italy
6
Department of Physics, Università degli Studi di Roma Tor Vergata, 00133 Roma, Italy
7
Department of Clinical Sciences and Translational Medicine, Università degli Studi di Roma Tor Vergata, 00133 Roma, Italy
8
School of Biological and Chemical Sciences, Queen Mary University of London, London E1 4NS, UK
9
Department of Chemistry, The University of Hong Kong, Hong Kong, China
10
Department of Chemistry, McMaster University, Hamilton, ON L8S 4L8, Canada
*
Authors to whom correspondence should be addressed.
Received: 17 July 2019 / Revised: 30 July 2019 / Accepted: 30 July 2019 / Published: 3 August 2019
Abstract
Neutron scattering in combination with scanning electron and atomic force microscopy were employed to quantitatively resolve elemental composition, nano- through meso- to metallurgical structures and surface characteristics of two commercial stainless steel orthodontic archwires—G&H and Azdent. The obtained bulk composition confirmed that both samples are made of metastable austenitic stainless steel type AISI 304. The neutron technique's higher detection sensitivity to alloying elements facilitated the quantitative determination of the composition factor (CF), and the pitting resistance equivalent number (PREN) for predicting austenite stability and pitting-corrosion resistance, respectively. Simultaneous neutron diffraction analyses revealed that both samples contained additional martensite phase due to strain-induced martensite transformation. The unexpectedly high martensite content (46.20 vol%) in G&H was caused by combination of lower austenite stability (CF = 17.37,
p
= .03), excessive cold working and inadequate thermal treatment during material processing. Together, those results assist in revealing alloying recipes and processing history, and relating these with corrosion resistance and mechanical properties. The present methodology has allowed access to unprecedented length-scale (μm to sub-nm) resolution, accessing nano- through meso-scopic properties. It is envisaged that such an approach can be extended to the study and design of other metallic (bio)materials used in medical sciences, dentistry and beyond.
View Full-Text
►

▼

Figures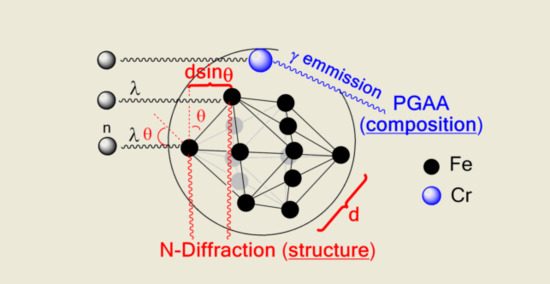 Graphical abstract
This is an open access article distributed under the
Creative Commons Attribution License
which permits unrestricted use, distribution, and reproduction in any medium, provided the original work is properly cited (CC BY 4.0).

Share & Cite This Article
MDPI and ACS Style
Tian, K.V.; Passaretti, F.; Nespoli, A.; Placidi, E.; Condò, R.; Andreani, C.; Licoccia, S.; Chass, G.A.; Senesi, R.; Cozza, P. Composition―Nanostructure Steered Performance Predictions in Steel Wires. Nanomaterials 2019, 9, 1119.
Note that from the first issue of 2016, MDPI journals use article numbers instead of page numbers. See further details here.
Related Articles
Comments
[Return to top]