Reactivity of Atomically Functionalized C-Doped Boron Nitride Nanoribbons and Their Interaction with Organosulfur Compounds
1
Instituto de Investigaciones Químico Biológicas, Universidad Michoacana de San Nicolás de Hidalgo, Francisco J. Múgica, s/n, Morelia 58030, Michoacán, Mexico
2
Laboratorio de Cómputo de Alto Desempeño, CONACYT-Universidad Michoacana de San Nicolás de Hidalgo, Edif. B-1, Ciudad Universitaria, Francisco J. Múgica, s/n, Morelia 58030, Michoacán, Mexico
3
Departamento de Física Aplicada, Centro de Investigación y de Estudios Avanzados, Unidad Mérida, Km 6 Antigua Carretera Progreso, Apdo. Postal 73, Cordemex, Mérida 97310, Yucatán, Mexico
4
Facultad de Ingeniería Química, Universidad Michoacana de San Nicolás de Hidalgo, Francisco J. Múgica, s/n, Morelia 58030, Michoacán, Mexico
*
Authors to whom correspondence should be addressed.
Received: 29 January 2019 / Revised: 4 March 2019 / Accepted: 7 March 2019 / Published: 18 March 2019
Abstract
The electronic and reactivity properties of carbon doped (C-doped) boron nitride nanoribbons (BNNRs) as a function of the carbon concentration were investigated in the framework of the density functional theory within the generalized gradient approximation. We found that the main routes to stabilize energetically the C-doped BNNRs involve substituting boron atoms near the edges. However, the effect of doping on the electronic properties depends of the sublattice where the C atoms are located; for instance, negative doping (partial occupations of electronic states) is found replacing B atoms, whereas positive doping (partial inoccupation of electronic states) is found when replacing N atoms with respect to the pristine BNNRs. Independently of the even or odd number of dopants of the C-doped BNNRs studied in this work, the solutions of the Kohn Sham equations suggest that the most stable solution is the magnetic one. The reactivity of the C-doped BNNRs is inferred from results of the dual descriptor, and it turns out that the main electrophilic sites are located near the dopants along the C-doped BNNRs. The reactivity of these nanostructures is tested by calculating the interaction energy between undesirable organosulfur compounds present in oil fuels on the C-doped BNNRs, finding that organosulfur compounds prefer to interact over nanosurfaces with dopants substituted on the B sublattice of the C-doped BNNRs. Most importantly, the selective C doping on the BNNRs offers the opportunity to tune the properties of the BNNRs to fit novel technological applications.
View Full-Text
►

▼

Figures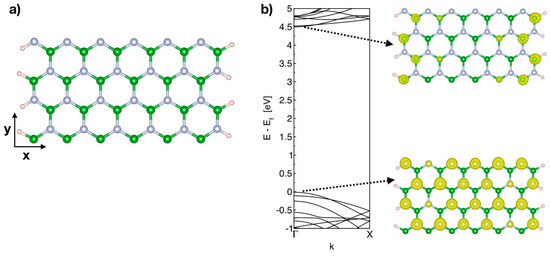 Figure 1
This is an open access article distributed under the
Creative Commons Attribution License
which permits unrestricted use, distribution, and reproduction in any medium, provided the original work is properly cited (CC BY 4.0).

Share & Cite This Article
MDPI and ACS Style
Villanueva-Mejia, F.; Navarro-Santos, P.; Rodríguez-Kessler, P.L.; Herrera-Bucio, R.; Rivera, J.L. Reactivity of Atomically Functionalized C-Doped Boron Nitride Nanoribbons and Their Interaction with Organosulfur Compounds. Nanomaterials 2019, 9, 452.
Note that from the first issue of 2016, MDPI journals use article numbers instead of page numbers. See further details here.
Related Articles
Comments
[Return to top]