Epigallocatechin Gallate-Gold Nanoparticles Exhibit Superior Antitumor Activity Compared to Conventional Gold Nanoparticles: Potential Synergistic Interactions
1
Department of Oncologic Sciences, Mitchell Cancer Institute, University of South Alabama, Mobile, AL 36604, USA
2
Department of Chemistry, University of South Alabama, Mobile, AL 36688, USA
3
Department of Biochemistry and Molecular Biology, College of Medicine, University of South Alabama, Mobile, AL 36688, USA
*
Authors to whom correspondence should be addressed.
Received: 14 February 2019 / Revised: 26 February 2019 / Accepted: 2 March 2019 / Published: 8 March 2019
Abstract
Epigallocatechin gallate (EGCG) possesses significant antitumor activity and binds to laminin receptors, overexpressed on cancer cells, with high affinity. Gold nanoparticles (GNPs) serve as excellent drug carriers and protect the conjugated drug from enzymatic metabolization. Citrate-gold nanoparticles (C-GNPs) and EGCG-gold nanoparticles (E-GNPs) were synthesized by reduction methods and characterized with UV-visible spectroscopy, transmission electron microscopy (TEM), and dynamic light scattering (DLS). Cytotoxicity of citrate, EGCG, C-GNPs, and E-GNPs was evaluated by the water-soluble tetrazolium salt (WST-1) assay. Nanoparticle cellular uptake studies were performed by TEM and atomic absorption spectroscopy (AAS). Dialysis method was employed to assess drug release. Cell viability studies showed greater growth inhibition by E-GNPs compared to EGCG or C-GNPs. Cellular uptake studies revealed that, unlike C-GNPs, E-GNPs were taken up more efficiently by cancerous cells than noncancerous cells. We found that E-GNP nanoformulation releases EGCG in a sustained fashion. Furthermore, data showed that E-GNPs induced more apoptosis in cancer cells compared to EGCG and C-GNPs. From the mechanistic standpoint, we observed that E-GNPs inhibited the nuclear translocation and transcriptional activity of nuclear factor-kappaB (NF-κB) with greater potency than EGCG, whereas C-GNPs were only minimally effective. Altogether, our data suggest that E-GNPs can serve as potent tumor-selective chemotoxic agents.
View Full-Text
►

▼

Figures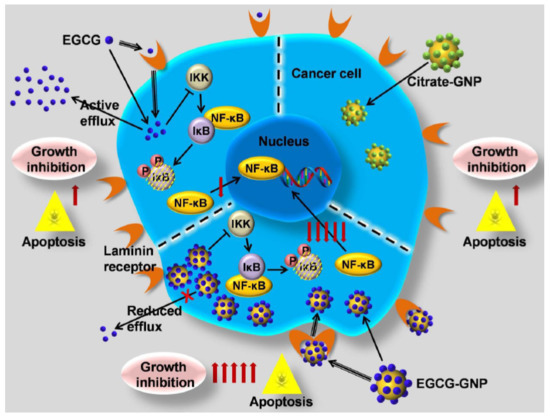 Graphical abstract
This is an open access article distributed under the
Creative Commons Attribution License
which permits unrestricted use, distribution, and reproduction in any medium, provided the original work is properly cited (CC BY 4.0).

Share & Cite This Article
MDPI and ACS Style
Chavva, S.R.; Deshmukh, S.K.; Kanchanapally, R.; Tyagi, N.; Coym, J.W.; Singh, A.P.; Singh, S. Epigallocatechin Gallate-Gold Nanoparticles Exhibit Superior Antitumor Activity Compared to Conventional Gold Nanoparticles: Potential Synergistic Interactions. Nanomaterials 2019, 9, 396.
Note that from the first issue of 2016, MDPI journals use article numbers instead of page numbers. See further details here.
Related Articles
Comments
[Return to top]