Phosphoproteomic Profiling Identifies Aberrant Activation of Integrin Signaling in Aggressive Non-Type Bladder Carcinoma
1
Institute of Bioinformatics, International Technology Park, Bangalore 560066, India
2
Manipal Academy of Higher Education, Madhav Nagar, Manipal 576104, India
3
School of Biotechnology, Amrita Vishwa Vidyapeetham, Kollam 690525, India
4
Cancer Science Institute of Singapore, National University of Singapore, Centre for Translational Medicine NUS Yong Loo Lin School of Medicine, Singapore 117597, Singapore
5
Comprehensive Cancer Center, Institut Gustave Roussy, 114 Rue Edouard Vaillant, 94800 Villejuif, France
6
CNRS UMR 7057, Matter and Complex Systems, Université Paris Diderot, 10 rue Alice Domon et Léonie Duquet Paris, 75205 Paris, France
*
Authors to whom correspondence should be addressed.
Received: 27 March 2019 / Revised: 22 April 2019 / Accepted: 23 April 2019 / Published: 17 May 2019
Abstract
Bladder carcinoma is highly heterogeneous and its complex molecular landscape; thus, poses a significant challenge for resolving an effective treatment in metastatic tumors. We computed the epithelial-mesenchymal transition (EMT) scores of three bladder carcinoma subtypes—luminal, basal, and non-type. The EMT score of the non-type indicated a "mesenchymal-like" phenotype, which correlates with a relatively more aggressive form of carcinoma, typified by an increased migration and invasion. To identify the altered signaling pathways potentially regulating this EMT phenotype in bladder cancer cell lines, we utilized liquid chromatography-tandem mass spectrometry (LC-MS/MS)-based phosphoproteomic approach. Bioinformatics analyses were carried out to determine the activated pathways, networks, and functions in bladder carcinoma cell lines. A total of 3125 proteins were identified, with 289 signature proteins noted to be differentially phosphorylated (
p
≤ 0.05) in the non-type cell lines. The integrin pathway was significantly enriched and five major proteins (TLN1, CTTN, CRKL, ZYX and BCAR3) regulating cell motility and invasion were hyperphosphorylated. Our study reveals GSK3A/B and CDK1 as promising druggable targets for the non-type molecular subtype, which could improve the treatment outcomes for aggressive bladder carcinoma.
View Full-Text
►

▼

Figures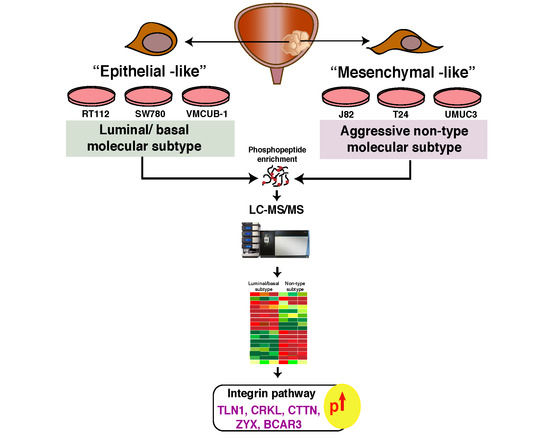 Graphical abstract
This is an open access article distributed under the
Creative Commons Attribution License
which permits unrestricted use, distribution, and reproduction in any medium, provided the original work is properly cited (CC BY 4.0).

Share & Cite This Article
MDPI and ACS Style
Deb, B.; Puttamallesh, V.N.; Gondkar, K.; Thiery, J.P.; Gowda, H.; Kumar, P. Phosphoproteomic Profiling Identifies Aberrant Activation of Integrin Signaling in Aggressive Non-Type Bladder Carcinoma. J. Clin. Med. 2019, 8, 703.
Note that from the first issue of 2016, MDPI journals use article numbers instead of page numbers. See further details here.
Related Articles
Comments
[Return to top]