Ethyl Pyruvate Directly Attenuates Active Secretion of HMGB1 in Proximal Tubular Cells via Induction of Heme Oxygenase-1
1
Department of Pharmacology, Institute of Health Sciences, Gyeongsang National University College of Medicine, Jinju 52727, Korea
2
Department of Internal Medicine, Samsung Changwon Hospital, Changwon 51353, Korea
*
Author to whom correspondence should be addressed.
Received: 10 March 2019 / Revised: 9 April 2019 / Accepted: 7 May 2019 / Published: 8 May 2019
Abstract
Renal ischemia reperfusion (IR) is a main cause of acute kidney injury leading to high morbidity and mortality during postoperative periods. This study investigated whether ethyl pyruvate (EP) protects the kidney against renal IR injury. Male C57BL/6 mice were treated with vehicle or EP (40 mg/kg) 1 h before ischemia and the plasma creatinine (Cr) levels and tubular damage were evaluated after reperfusion. EP attenuated the IR-induced plasma Cr levels, renal inflammation and apoptotic cell death, but the effect of EP was abolished by pretreating Zinc protoporphyrin (ZnPP), a heme oxygenase (HO)-1 inhibitor. HO-1 is a stress-induced protein and protects the kidney against IR injury. EP increased significantly HO-1 expression in the proximal tubular cells in vivo and HK-2 cells in vitro. Inhibition of PI3K/Akt pathway and knockdown of Nrf2 blocked HO-1 induction by EP. High mobility group box 1 (HMGB1) secretion was assessed as an early mediator of IR injury; plasma HMGB1 were significantly elevated as early as 2 h to 24 h after reperfusion and these were attenuated by EP, but the effect of EP was abolished by ZnPP. EP also reduced HMGB1 secretion stimulated by TNF-α in HK-2 cells, and the inhibition of PI3K/Akt and knockdown of HO-1 blocked the effect of EP. Conclusively, EP inhibits the active secretion of HMGB1 from proximal tubular cells during IR injury by inducing HO-1 via activation of PI3K/Akt and Nrf2 pathway.
View Full-Text
►

▼

Figures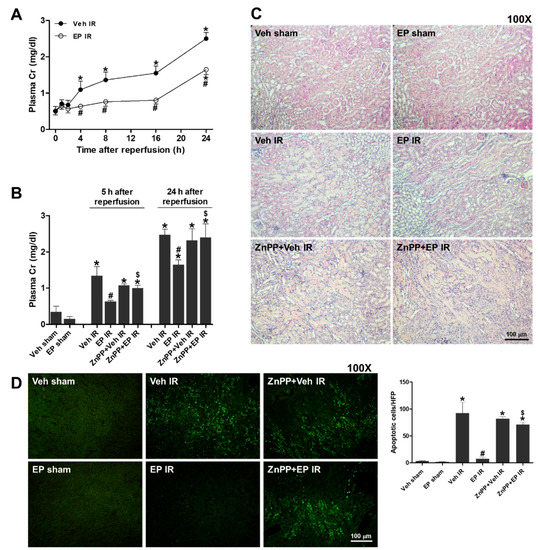 Figure 1
This is an open access article distributed under the
Creative Commons Attribution License
which permits unrestricted use, distribution, and reproduction in any medium, provided the original work is properly cited (CC BY 4.0).

Share & Cite This Article
MDPI and ACS Style
Seo, M.S.; Kim, H.J.; Kim, H.; Park, S.W. Ethyl Pyruvate Directly Attenuates Active Secretion of HMGB1 in Proximal Tubular Cells via Induction of Heme Oxygenase-1. J. Clin. Med. 2019, 8, 629.
Note that from the first issue of 2016, MDPI journals use article numbers instead of page numbers. See further details here.
Related Articles
Comments
[Return to top]