Osteogenic Cell Behavior on Titanium Surfaces in Hard Tissue
1
Dental Research Institute, Seoul National University, Seoul 03080, Korea
2
Department of Biomaterials, Sahlgrenska Academy, University of Gothenburg, 40530 Gothenburg, Sweden
3
Department of Prosthodontics, Faculty of Odontology, Malmö University, 21118 Malmö, Sweden
4
Department of Prosthodontics, School of Dentistry and Dental Research Institute, Seoul National University, 101 Daehak-ro, Jongro-gu, Seoul 03080, Korea
*
Author to whom correspondence should be addressed.
Received: 12 April 2019 / Revised: 26 April 2019 / Accepted: 28 April 2019 / Published: 2 May 2019
Abstract
It is challenging to remove dental implants once they have been inserted into the bone because it is hard to visualize the actual process of bone formation after implant installation, not to mention the cellular events that occur therein. During bone formation, contact osteogenesis occurs on roughened implant surfaces, while distance osteogenesis occurs on smooth implant surfaces. In the literature, there have been many in vitro model studies of bone formation on simulated dental implants using flattened titanium (Ti) discs; however, the purpose of this study was to identify the in vivo cell responses to the implant surfaces on actual, three-dimensional (3D) dental Ti implants and the surrounding bone in contact with such implants at the electron microscopic level using two different types of implant surfaces. In particular, the different parts of the implant structures were scrutinized. In this study, dental implants were installed in rabbit tibiae. The implants and bone were removed on day 10 and, subsequently, assessed using scanning electron microscopy (SEM), immunofluorescence microscopy (IF), transmission electron microscopy (TEM), focused ion-beam (FIB) system with Cs-corrected TEM (Cs-STEM), and confocal laser scanning microscopy (CLSM)—which were used to determine the implant surface characteristics and to identify the cells according to the different structural parts of the turned and roughened implants. The cell attachment pattern was revealed according to the different structural components of each implant surface and bone. Different cell responses to the implant surfaces and the surrounding bone were attained at an electron microscopic level in an in vivo model. These results shed light on cell behavioral patterns that occur during bone regeneration and could be a guide in the use of electron microscopy for 3D dental implants in an in vivo model.
View Full-Text
►

▼

Figures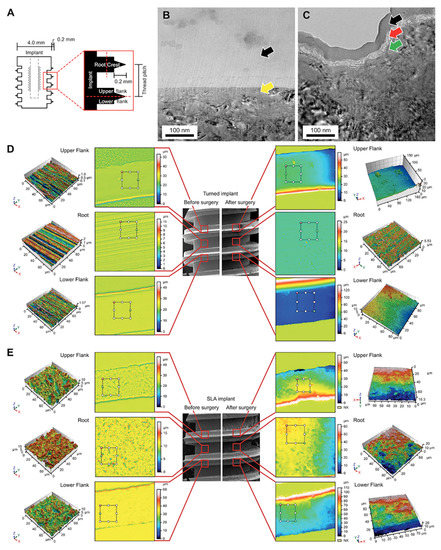 Figure 1
This is an open access article distributed under the
Creative Commons Attribution License
which permits unrestricted use, distribution, and reproduction in any medium, provided the original work is properly cited (CC BY 4.0).

Share & Cite This Article
MDPI and ACS Style
Choi, J.-Y.; Albrektsson, T.; Jeon, Y.-J.; Yeo, I.-S.L. Osteogenic Cell Behavior on Titanium Surfaces in Hard Tissue. J. Clin. Med. 2019, 8, 604.
Note that from the first issue of 2016, MDPI journals use article numbers instead of page numbers. See further details here.
Related Articles
Comments
[Return to top]