A Retrospective Study of the Diagnostic Accuracy of In Vivo Reflectance Confocal Microscopy for Basal Cell Carcinoma Diagnosis and Subtyping
1
Department of Dermatology, "Carol Davila" University of Medicine and Pharmacy, 050474 Bucharest, Romania
2
Department of Plastic and Reconstructive Surgery, "Bagdasar-Arseni" Clinical Emergency Hospital, 041915 Bucharest, Romania
3
Department of Dermatology, "Elias" University Emergency Hospital, 011461 Bucharest, Romania
4
Department of Dermatology, "Prof. N. Paulescu" National Institute of Diabetes, Nutrition and Metabolic Diseases, 011233 Bucharest, Romania
5
Department of Physiology, "Carol Davila" University of Medicine and Pharmacy, 050474 Bucharest, Romania
*
Authors to whom correspondence should be addressed.
Received: 11 March 2019 / Revised: 28 March 2019 / Accepted: 2 April 2019 / Published: 3 April 2019
Abstract
Current national and European guidelines recommend distinct management approaches for basal cell carcinoma (BCC) based on tumor location, size, and histopathological subtype. In vivo reflectance confocal microscopy (RCM) is a non-invasive skin imaging technique which may change the diagnostic pathway for BCC patients. This study aimed to determine the sensitivity and specificity of RCM for BCC diagnosis, assess the predictive values of several confocal criteria in correctly classifying BCC subtypes, and evaluate the intraobserver reliability of RCM diagnosis for BCC. We conducted a retrospective study in two tertiary care centers in Bucharest, Romania. We included adults with clinically and dermoscopic suspect BCCs who underwent RCM and histopathological examination of excision specimens. For RCM examinations, we used the VivaScope 1500 and histopathology of the surgical excision specimen was the reference standard. Of the 123 cases included in the analysis, BCC was confirmed in 104 and excluded in 19 cases. RCM showed both high sensitivity (97.1%, 95% CI (91.80, 99.40)) and specificity (78.95%, 95% CI (54.43, 93.95)) for detecting BCC. Several RCM criteria were highly predictive for BCC subtypes: cords connected to the epidermis for superficial BCC, big tumor islands, peritumoral collagen bundles and increased vascularization for nodular BCC, and hyporefractile silhouettes for aggressive BCC. Excellent intraobserver agreement (κ = 0.909,
p
< 0.001) was observed. This data suggests that RCM could be used for preoperative diagnosis and BCC subtype classification in patients with suspected BCCs seen in tertiary care centers.
View Full-Text
►

▼

Figures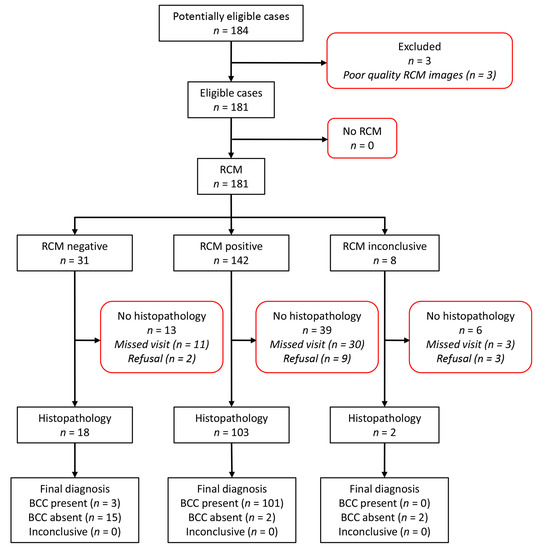 Figure 1
This is an open access article distributed under the
Creative Commons Attribution License
which permits unrestricted use, distribution, and reproduction in any medium, provided the original work is properly cited (CC BY 4.0).

Share & Cite This Article
MDPI and ACS Style
Lupu, M.; Popa, I.M.; Voiculescu, V.M.; Boda, D.; Caruntu, C.; Zurac, S.; Giurcaneanu, C. A Retrospective Study of the Diagnostic Accuracy of In Vivo Reflectance Confocal Microscopy for Basal Cell Carcinoma Diagnosis and Subtyping. J. Clin. Med. 2019, 8, 449.
Note that from the first issue of 2016, MDPI journals use article numbers instead of page numbers. See further details here.
Related Articles
Comments
[Return to top]