Predictive Factors and Oncologic Outcome of Downgrade to Pathologic Gleason Score 6–7 after Radical Prostatectomy in Patients with Biopsy Gleason Score 8–10
1
Department of Urology, Inha University School of Medicine, 366 Seohae-daero, Jung-gu, Incheon 22332, Korea
2
Department of Urology, Urological Science Institute, Yonsei University College of Medicine, 50-1 Yonsei-ro, Seodaemun-gu, Seoul 120-752, Korea
*
Author to whom correspondence should be addressed.
Received: 6 February 2019 / Revised: 13 March 2019 / Accepted: 25 March 2019 / Published: 30 March 2019
Abstract
Gleason score (GS) 8–10 is associated with adverse outcomes in prostate cancer (PCa). However, biopsy GS (bGS) may be upgraded or downgraded post-radical prostatectomy (RP). We aimed to investigate predictive factors and oncologic outcomes of downgrade to pathologic GS (pGS) 6–7 after RP in PCa patients with bGSs 8–10. We retrospectively reviewed clinical data of patients with bGS ≥ 8 undergoing RP. pGS downgrade was defined as a pGS ≤ 7 from bGS ≥ 8 post-RP. Univariate and multivariate cox regression analysis, logistic regression analysis, and Kaplan–Meier curves were used to analyze pGS downgrade and biochemical recurrence (BCR). Of 860 patients, 623 and 237 had bGS 8 and bGS ≥ 9, respectively. Post-RP, 332 patients were downgraded to pGS ≤ 7; of these, 284 and 48 had bGS 8 and bGS ≥ 9, respectively. Prostate-specific antigen (PSA) levels; clinical stage; and adverse pathologic features such as extracapsular extension, seminal vesicle invasion and positive surgical margin were significantly different between patients with pGS ≤ 7 and pGS ≥ 8. Furthermore, bGS 8 (odds ratio (OR): 0.349,
p
< 0.001), PSA level < 10 ng/mL (OR: 0.634,
p
= 0.004), and ≤cT3a (OR: 0.400,
p
< 0.001) were identified as significant predictors of pGS downgrade. pGS downgrade was a significant positive predictor of BCR following RP in patients with high bGS (vs. pGS 8, hazard radio (HR): 1.699,
p
< 0.001; vs. pGS ≥ 9, HR: 1.765,
p
< 0.001). In addition, the 5-year BCR-free survival rate in patients with pGS downgrade significantly differed from that in patients with bGS 8 and ≥ 9 (52.9% vs. 40.7%,
p
< 0.001). Among patients with bGS ≥ 8, those with bGS 8, PSA level < 10 ng/mL, and ≤cT3a may achieve pGS downgrade after RP. These patients may have fewer adverse pathologic features and show a favorable prognosis; thus we suggest that active treatment is needed in these patients. In addition, patients with high-grade bGS should be managed aggressively, even if they show pGS downgrade.
View Full-Text
►

▼

Figures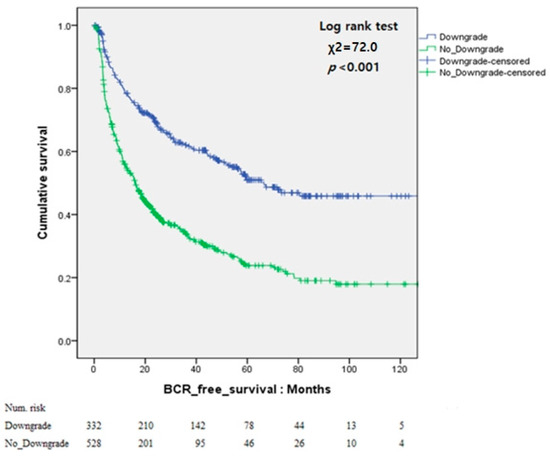 Figure 1
This is an open access article distributed under the
Creative Commons Attribution License
which permits unrestricted use, distribution, and reproduction in any medium, provided the original work is properly cited (CC BY 4.0).

Share & Cite This Article
MDPI and ACS Style
Chung, D.Y.; Lee, J.S.; Goh, H.J.; Koh, D.H.; Kim, M.S.; Jang, W.S.; Choi, Y.D. Predictive Factors and Oncologic Outcome of Downgrade to Pathologic Gleason Score 6–7 after Radical Prostatectomy in Patients with Biopsy Gleason Score 8–10. J. Clin. Med. 2019, 8, 438.
Note that from the first issue of 2016, MDPI journals use article numbers instead of page numbers. See further details here.
Related Articles
Comments
[Return to top]