Epithelial to Mesenchymal Transition and Cell Biology of Molecular Regulation in Endometrial Carcinogenesis
1
Department of Obstetrics and Gynecology, Taipei Tzu Chi Hospital, Buddhist Tzu Chi Medical Foundation, Taipei 231, Taiwan
2
Department of Obstetrics and Gynecology, School of Medicine, Tzu Chi University, Hualien 970, Taiwan
3
Department of Obstetrics and Gynecology, Kaohsiung Veterans General Hospital, Kaohsiung 813, Taiwan
4
Department of Emergency Medicine, Taipei Tzu Chi Hospital, Buddhist Tzu Chi Medical Foundation, New Taipei 231, Taiwan
5
Department of Emergency Medicine, School of Medicine, Tzu Chi University, Hualien 970, Taiwan
6
Department of Medical Research, Buddhist Tzu Chi General Hospital, Hualien 970, Taiwan
*
Author to whom correspondence should be addressed.
Received: 22 February 2019 / Revised: 21 March 2019 / Accepted: 25 March 2019 / Published: 30 March 2019
Abstract
Endometrial carcinogenesis is involved in several signaling pathways and it comprises multiple steps. The four major signaling pathways—PI3K/AKT, Ras/Raf/MEK/ERK, WNT/β-catenin, and vascular endothelial growth factor (VEGF)—are involved in tumor cell metabolism, growth, proliferation, survival, and angiogenesis. The genetic mutation and germline mitochondrial DNA mutations also impair cell proliferation, anti-apoptosis signaling, and epithelial–mesenchymal transition by several transcription factors, leading to endometrial carcinogenesis and distant metastasis. The PI3K/AKT pathway activates the ransforming growth factor beta (TGF-β)-mediated endothelial-to-mesenchymal transition (EMT) and it interacts with downstream signals to upregulate EMT-associated factors. Estrogen and progesterone signaling in EMT also play key roles in the prognosis of endometrial carcinogenesis. In this review article, we summarize the current clinical and basic research efforts regarding the detailed molecular regulation in endometrial carcinogenesis, especially in EMT, to provide novel targets for further anti-carcinogenesis treatment.
View Full-Text
►

▼

Figures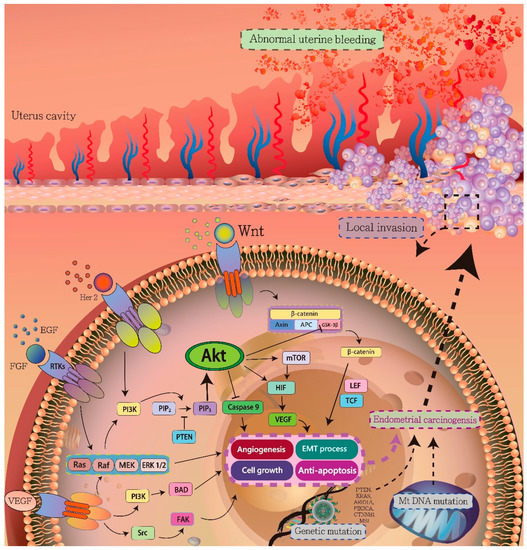 Figure 1
This is an open access article distributed under the
Creative Commons Attribution License
which permits unrestricted use, distribution, and reproduction in any medium, provided the original work is properly cited (CC BY 4.0).

Share & Cite This Article
MDPI and ACS Style
Chiu, H.-C.; Li, C.-J.; Yiang, G.-T.; Tsai, A. .-Y.; Wu, M.-Y. Epithelial to Mesenchymal Transition and Cell Biology of Molecular Regulation in Endometrial Carcinogenesis. J. Clin. Med. 2019, 8, 439.
Note that from the first issue of 2016, MDPI journals use article numbers instead of page numbers. See further details here.
Related Articles
Comments
[Return to top]