Trastuzumab Induced Chemobrain, Atorvastatin Rescued Chemobrain with Enhanced Anticancer Effect and without Hair Loss-Side Effect
1
Division of RI Application, Korea Institute of Radiological and Medical Sciences, 75 Nowon-ro, Nowon-gu, Seoul 01812, Korea
2
Department of Bio-convergence Engineering, Korea University, Seoul 02856, Korea
3
Division of Radiation Biomedical Research, Korea Institute of Radiological and Medical Sciences, 75 Nowon-ro, Nowon-gu, Seoul 01812, Korea
4
Radiological and Medico-Oncological Sciences, University of Science and Technology, 75 Nowon-ro, Nowon-gu, Seoul 01812, Korea
5
Research Support Team, ANDIVA Inc., Chuncheon 24324, Korea
6
Department of Nuclear Medicine, Korea Institute Radiological and Medical Sciences, 75 Nowon-ro, Nowon-gu, Seoul 01812, Korea
*
Author to whom correspondence should be addressed.
†
These authors contributed equally to this manuscript.
Received: 7 January 2019 / Revised: 7 February 2019 / Accepted: 8 February 2019 / Published: 11 February 2019
Abstract
The authors identified that chemo-brain was induced after trastuzumab (TZB) therapy. In addition, atorvastatin (ATV) could rescue chemo-brain during trastuzumab (TZB) therapy. Enhanced therapeutic effect of TZB was confirmed after ATV therapy. We also investigated that there was no hair loss side effect due to ATV therapy. In an animal model, 150 μg TZB and five serial doses of 20 mg/kg ATV were administered.
18
F-fluorodeoxyglucose Positron Emission Tomography (PET) and Magnetic Resonance Imaging (MRI) data were acquired. Statistical parametric mapping analysis and voxel-based morphometry analysis were performed to identify differences in glucose metabolism and gray matter concentration. The enhanced therapeutic efficacy of TZB after ATV treatment was assessed using a human epidermal growth factor receptor 2-positive gastric cancer model. We found a decrease in cerebral glucose metabolism and gray matter concentration in the frontal lobe following TZB therapy (
p
< 0.005). After subsequent ATV administration, glucose metabolism and regional gray matter concentration were rescued (
p
< 0.005). Cognitive impairment due to TZB and the rescue effect of ATV were confirmed using a passive avoidance test and quantitative real-time reverse transcription PCR. Furthermore, the penetration and accumulation of TZB in tumors increased by 100% after ATV co-administration, which resulted in an enhanced anti-cancer effect. Our study collectively demonstrates that ATV co-administration with TZB rescued the TZB-induced chemo-brain and enhances the therapeutic efficacy of TZB in tumors. We also showed that there was no hair loss during ATV therapy.
View Full-Text
►

▼

Figures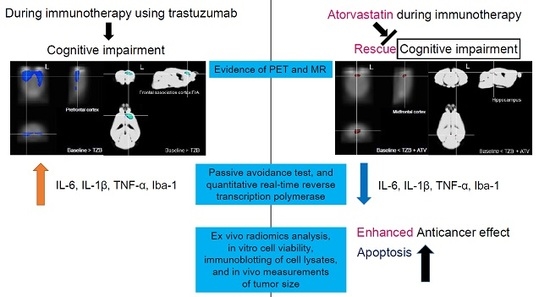 Graphical abstract
This is an open access article distributed under the
Creative Commons Attribution License
which permits unrestricted use, distribution, and reproduction in any medium, provided the original work is properly cited (CC BY 4.0).

Share & Cite This Article
MDPI and ACS Style
Lee, S.; Lee, H.-J.; Kang, H.; Kim, E.-H.; Lim, Y.-C.; Park, H.; Lim, S.M.; Lee, Y.J.; Kim, J.M.; Kim, J.S. Trastuzumab Induced Chemobrain, Atorvastatin Rescued Chemobrain with Enhanced Anticancer Effect and without Hair Loss-Side Effect. J. Clin. Med. 2019, 8, 234.
Note that from the first issue of 2016, MDPI journals use article numbers instead of page numbers. See further details here.
Related Articles
Comments
[Return to top]