Frequent Alteration of Annexin A9 and A10 in HPV-Negative Head and Neck Squamous Cell Carcinomas: Correlation with the Histopathological Differentiation Grade
1
Department of Otolaryngology, Hospital Universitario Central de Asturias and Instituto de Investigación Sanitaria del Principado de Asturias, Instituto Universitario de Oncología del Principado de Asturias, University of Oviedo, Avda. Roma, 33011 Oviedo, Spain
2
CIBERONC, Av. Monforte de Lemos 3-5, 28029 Madrid, Spain
3
Department of Biochemistry and Molecular Biology and Institute of Biotechnology of Asturias, University of Oviedo, Julian Clavería, 33006 Oviedo, Spain
4
Department of Pathology, Hospital Universitario Central de Asturias and Instituto Universitario de Oncología del Principado de Asturias, University of Oviedo, Avda. Roma, 33011 Oviedo, Spain
5
Molecular Oncology Unit, CIEMAT (ed 70A), Av. Complutense 40, 28040 Madrid, Spain
6
Department of Oral Surgery, Hospital Universitario Central de Asturias and Instituto de Investigación Sanitaria del Principado de Asturias, Instituto Universitario de Oncología del Principado de Asturias, University of Oviedo, Avda. Roma, 33011 Oviedo, Spain
*
Authors to whom correspondence should be addressed.
†
These authors contributed equally to this work.
Received: 3 December 2018 / Revised: 30 January 2019 / Accepted: 4 February 2019 / Published: 10 February 2019
Abstract
The annexin protein superfamily has been implicated in multiple physiological and pathological processes, including carcinogenesis. Altered expression of various annexins has frequently been observed and linked to the development and progression of various human malignancies. However, information is lacking on the expression and clinical significance of annexin A9 (ANXA9) and A10 (ANXA10) in head and neck squamous cell carcinomas (HNSCC). ANXA9 and ANXA10 expression was evaluated in a large cohort of 372 surgically treated HPV-negative HNSCC patients and correlated with the clinicopathologic parameters and disease outcomes. Down-regulation of ANXA9 expression was found in 42% of HNSCC tissue samples, compared to normal epithelia. ANXA9 expression in tumors was significantly associated with oropharyngeal location and histological differentiation grade (
p
< 0.001). In marked contrast, ANXA10 expression was absent in normal epithelium, but variably detected in the cytoplasm of cancer cells. Positive ANXA10 expression was found in 64% of tumors, and was significantly associated with differentiation grade (
p
< 0.001), being also more frequent in oropharyngeal tumors (
p
= 0.019). These results reveal that the expression of both ANXA9 and ANXA10 is frequently altered in HNSCC and associated to the tumor differentiation grade, suggesting that they could be implicated in the pathogenesis of these cancers.
View Full-Text
►

▼

Figures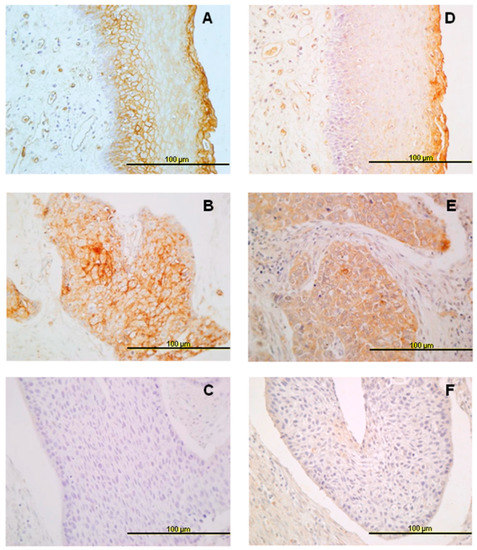 Figure 1
This is an open access article distributed under the
Creative Commons Attribution License
which permits unrestricted use, distribution, and reproduction in any medium, provided the original work is properly cited (CC BY 4.0).

Share & Cite This Article
MDPI and ACS Style
Salom, C.; Álvarez-Teijeiro, S.; Fernández, M.P.; Morgan, R.O.; Allonca, E.; Vallina, A.; Lorz, C.; de Villalaín, L.; Fernández-García, M.S.; Rodrigo, J.P.; García-Pedrero, J.M. Frequent Alteration of Annexin A9 and A10 in HPV-Negative Head and Neck Squamous Cell Carcinomas: Correlation with the Histopathological Differentiation Grade. J. Clin. Med. 2019, 8, 229.
Note that from the first issue of 2016, MDPI journals use article numbers instead of page numbers. See further details here.
Related Articles
Comments
[Return to top]