Bone Immune Response to Materials, Part I: Titanium, PEEK and Copper in Comparison to Sham at 10 Days in Rabbit Tibia
1
Department of Prosthodontics, Faculty of Odontology, The Sahlgrenska Academy, University of Gothenburg, 405 30 Gothenburg, Sweden
2
Department of Biomaterials, Institute of Clinical Sciences, University of Gothenburg, 405 30 Gothenburg, Sweden
3
Department of Prosthodontics, Faculty of Odontology, Malmö University, 205 06 Malmö, Sweden
4
Department of Oral Pathology, Faculty of Odontology, Malmö University, 205 06 Malmö, Sweden
*
Author to whom correspondence should be addressed.
Received: 9 November 2018 / Revised: 2 December 2018 / Accepted: 5 December 2018 / Published: 7 December 2018
Abstract
Bone anchored biomaterials have become an indispensable solution for the restoration of lost dental elements and for skeletal joint replacements. However, a thorough understanding is still lacking in terms of the biological mechanisms leading to osseointegration and its contrast, unwanted peri-implant bone loss. We have previously hypothesized on the participation of immune mechanisms in such processes, and later demonstrated enhanced bone immune activation up to 4 weeks around titanium implants. The current experimental study explored and compared in a rabbit tibia model after 10 days of healing time, the bone inflammation/immunological reaction at mRNA level towards titanium, polyether ether ketone (PEEK) and copper compared to a Sham control. Samples from the test and control sites were, after a healing period, processed for gene expression analysis (polymerase chain reaction, (qPCR)) and decalcified histology tissue analysis. All materials displayed immune activation and suppression of bone resorption, when compared to sham. The M1 (inflammatory)/M2 (reparative) -macrophage phenotype balance was correlated to the proximity and volume of bone growth at the implant vicinity, with titanium demonstrating a M2-phenotype at 10 days, whereas copper and PEEK were still dealing with a mixed M1- and M2-phenotype environment. Titanium was the only material showing adequate bone growth and proximity inside the implant threads. There was a consistent upregulation of (T-cell surface glycoprotein CD4) CD4 and downregulation of (T-cell transmembrane glycoprotein CD8) CD8, indicating a CD4-lymphocyte phenotype driven reaction around all materials at 10 days.
View Full-Text
►

▼

Figures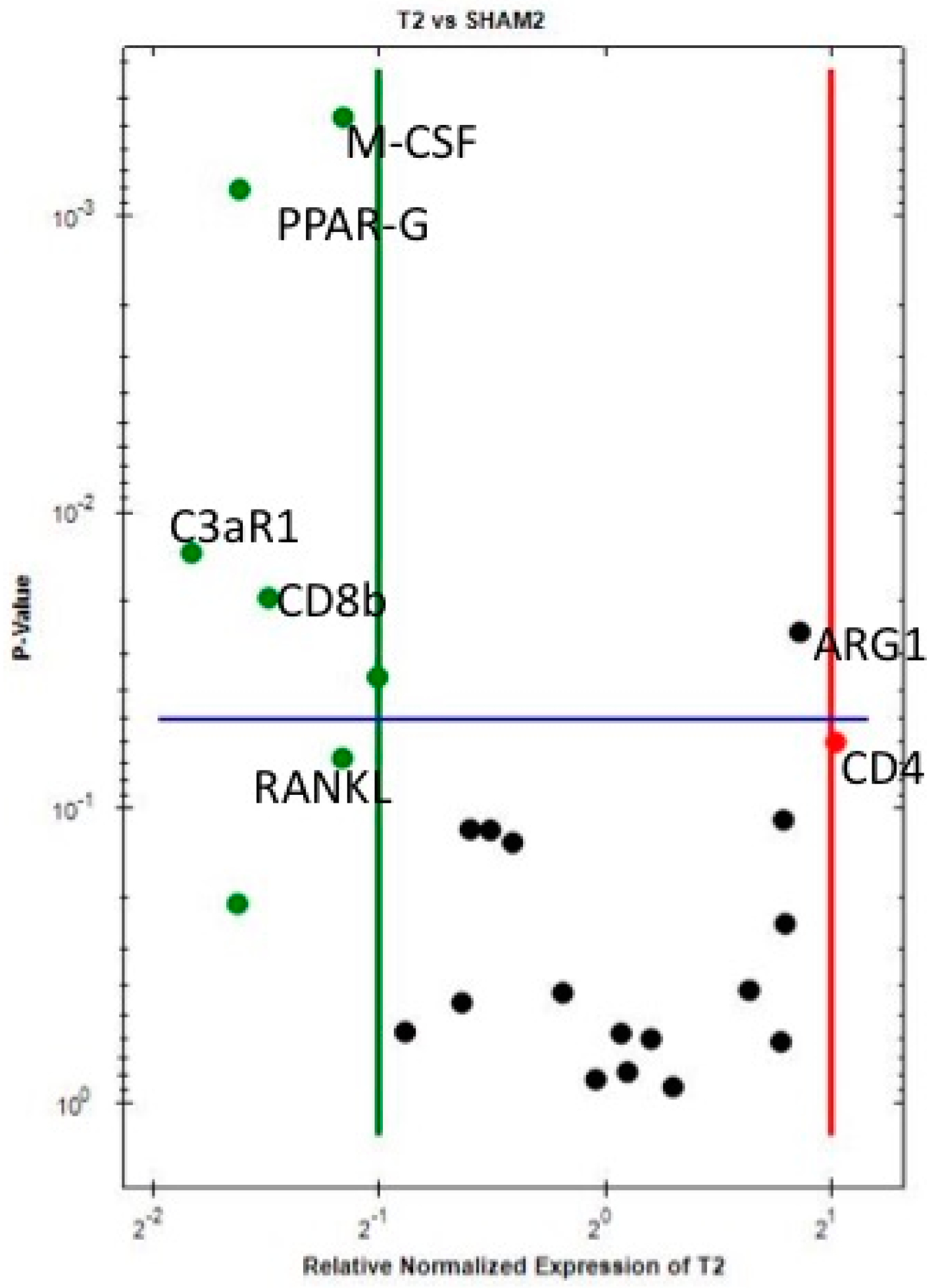 Figure 1
This is an open access article distributed under the
Creative Commons Attribution License
which permits unrestricted use, distribution, and reproduction in any medium, provided the original work is properly cited (CC BY 4.0).

Share & Cite This Article
MDPI and ACS Style
Trindade, R.; Albrektsson, T.; Galli, S.; Prgomet, Z.; Tengvall, P.; Wennerberg, A. Bone Immune Response to Materials, Part I: Titanium, PEEK and Copper in Comparison to Sham at 10 Days in Rabbit Tibia. J. Clin. Med. 2018, 7, 526.
Note that from the first issue of 2016, MDPI journals use article numbers instead of page numbers. See further details here.
Related Articles
Comments
[Return to top]