Synthesis and Study of Gas Transport Properties of Polymers Based on Macroinitiators and 2,4-Toluene Diisocyanate
1
Department of Synthetic rubber, Kazan National Research Technological University, 68 K. Marx str., 420015 Kazan, Russia
2
Department for Materials Science, Welding and Industrial Safety, Kazan National Research Technical University, n.a. A.N. Tupolev, 10 K. Marx str., 420111 Kazan, Russia
3
Laboratory of Scientific and Research Center, PJSC Nizhnekamskneftekhim, 23 Sobolekovskaya str., 423574 Nizhnekamsk, Russia
4
Laboratory of Membrane and Catalytic Processes, Nizhny Novgorod State Technical University n.a. R.E. Alekseev, 24 Minin str., 603950 Nizhny Novgorod, Russia
*
Author to whom correspondence should be addressed.
Received: 24 February 2019 / Revised: 14 March 2019 / Accepted: 17 March 2019 / Published: 20 March 2019
Abstract
Nowadays, block copolymers hold great promise for the design of novel membranes to be applied for the membrane gas separation. In this regard, microporous block copolymers based on a macroinitiator with an anionic nature, such as potassium-substituted block copolymers of propylene oxide and ethylene oxide (PPEG) and 2,4-toluene diisocyanate (TDI), were obtained and investigated as effective gas separation membranes. The key element of the macromolecular structure that determines the supramolecular organization of the studied polymers is the coplanar blocks of polyisocyanates with an acetal nature (O-polyisocyanate). In the present research, the influence of the content of peripheral polyoxyethylene (POE) blocks in PPEG on the supramolecular structure processes and gas transport characteristics of the obtained polymers based on PPEG and TDI was investigated. According to the study of polymers if the POE block content is 15 wt %, the polyoxypropylene segments are located in the internal cavity of voids formed by O-polyisocyanate blocks. When the POE block content is 30 wt %, the flexible chain component forms its own microphase outside the segregation zone of the rigid O-polyisocyanate blocks. The permeability for polar molecules, such as ammonia or hydrogen sulfide, significantly exceeds the permeability values obtained for non-polar molecules He, N
2
and CH
4
. A relatively high permeability is also observed for carbon dioxide. At the same time, the content of POE blocks has a small effect on the permeability for all studied gases. The diffusion coefficient increases with an increase in the POE block content in PPEG for all studied gases.
View Full-Text
►

▼

Figures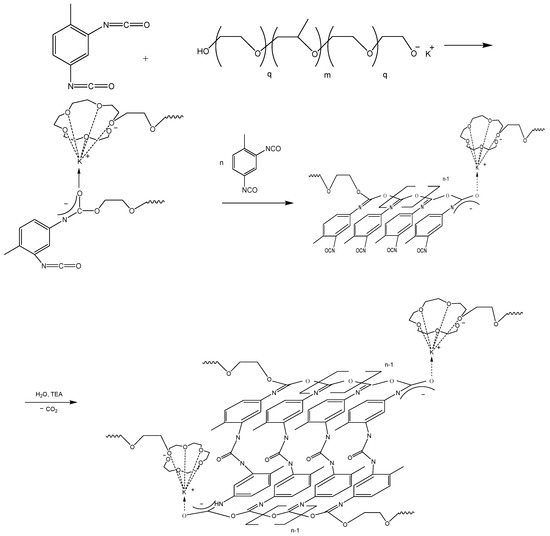 Figure 1
This is an open access article distributed under the
Creative Commons Attribution License
which permits unrestricted use, distribution, and reproduction in any medium, provided the original work is properly cited (CC BY 4.0).

Share & Cite This Article
MDPI and ACS Style
Davletbaeva, I.M.; Zaripov, I.I.; Mazilnikov, A.I.; Davletbaev, R.S.; Sharifullin, R.R.; Atlaskin, A.A.; Sazanova, T.S.; Vorotyntsev, I.V. Synthesis and Study of Gas Transport Properties of Polymers Based on Macroinitiators and 2,4-Toluene Diisocyanate. Membranes 2019, 9, 42.
Note that from the first issue of 2016, MDPI journals use article numbers instead of page numbers. See further details here.
Related Articles
Comments
[Return to top]